When the Greek philosopher Heraclitus said, "change is the only constant in life," he uttered a universal and timeless truism that applies to pretty much every aspect of existence, including homeownership.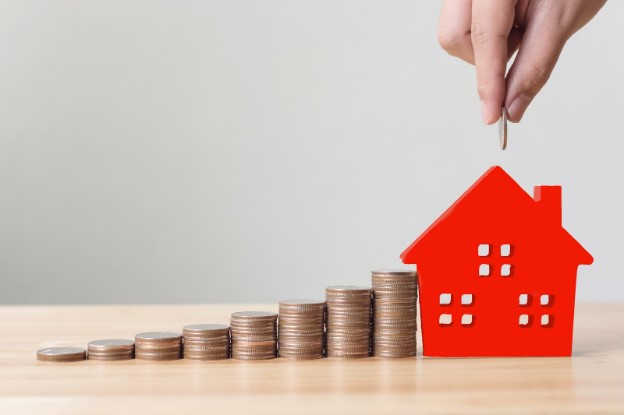 When the location, square footage, layout, and quality of your home come together seamlessly to meet your family's needs, your space feels better than perfect. But when your home doesn't keep up with your growing family or their changing needs, you may find yourself dreaming of a home renovation — or a new house.
Figuring out whether to remodel your current home or move to a new one can be a complex and highly situational decision, especially if there are plenty of pros and cons on both sides of the question.
The following considerations can help you determine when remodeling is worth the investment:
Space and Location
Before you start weighing the pros and cons of renovating your current home, it's important to assess how its location (neighborhood, town, and region) and square footage (both present and potential) meet your needs.
Most people consider remodeling their home because they're pleased with its location, but its square footage and/or layout are no longer adequate. If that's the situation for you, it's time to take a good hard look at your home's potential.
Can you realistically reconfigure your interior walls to create the kind of spaces you'd like? Do you have a basement you could finish to increase your square footage? Is your lot big enough to accommodate an addition? The answers to these questions help determine if remodeling your home is a viable solution, to begin with.
Equity and Availability
If you've been in your home for a long time, you probably have a greater amount of equity in your house — and more savings in the bank — than you did just a few short years ago. Having a considerable amount of home equity is a good reason to renovate, especially if you like the idea of improving on your investment.
If home equity isn't a major factor for you, either because you have very little or you don't mind investing it in a new house, it's a good idea to get familiar with your local real estate market.
If you'd like to stay in your neighborhood, town, or area, start keeping tabs on what's available in your price range. A wide range of factors, including current market conditions and the extent of available inventory, can determine whether or not you'll be able to find a house that fits your budget and ticks all the boxes on your list.
Financial Costs
Whether you decide to renovate your home or move to a new one, you'll incur costs along the way. Even if you don't wind up going with the more affordable or cost-effective solution, you still need to consider all potential expenses before you can make an accurate comparison.
Moving to a New House
Prior to selling your home, you may need to make a few minor repairs and/or upgrades simply to get it listed at your desired asking price. Even if this only includes minimal tasks like carpet cleaning, painting, and small curb appeal enhancements, the average homeowner spends over $6,000 to get their home ready for listing.
You'll also need to factor in moving costs, even if you plan to pack everything yourself and rent a truck (and if you do plan to move yourself, make sure it really is feasible). And unless you plan to sell your home without a full-service agent, you can also expect to pay up to 6% of your sale price in agent commissions (for both your agent and your buyer's agent).
Finally, don't forget about the hidden costs of upgrading to a larger space, if that's part of your plan; bigger houses usually come with higher property taxes and maintenance and utility costs.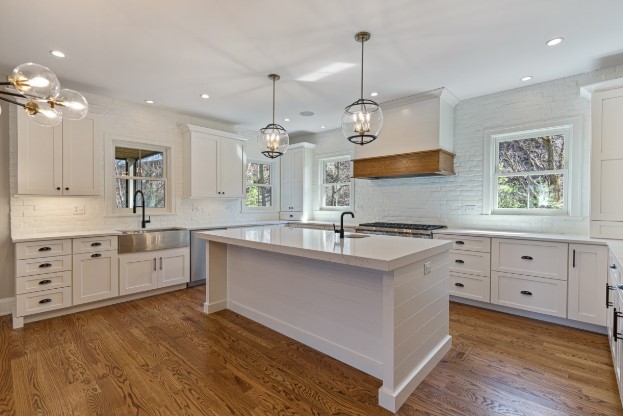 Kitchen Design & Build by Hogan Design & Construction
Remodeling Your Current Home
While there are many moving parts in the home renovation process, the costs tend to be fairly straightforward when all is said and done. That's because you set a budget from the start, and then figure out what you can accomplish within your budget.
To make sure your renovation is worth the investment it's important that you don't overspend on any one space. For example, if your home is worth $250,000, and your kitchen is about 10% of your square footage, you shouldn't spend more than $25,000 to renovate it.
Your home renovation budget should factor in the cost of permits, design plans, materials, and labor; it's also wise to reserve at least 10% of your budget for unexpected issues and hidden costs, especially if you're remodeling an older home.
A big advantage of going with a design-build firm like Hogan Design & Construction is that we handle every aspect of your project in-house. Besides helping you understand what to expect each step of the way, we provide accurate estimates throughout the design process and set a fixed price before construction begins.
Time and Process
It can take days, weeks, or months to sell your home and move into a new one, depending on your timing and local market conditions. Even so, once your house is under contract, it's fairly easy to predict your closing date — and your moving date — with more certainty. You can get an idea of the average amount of time it takes to sell a home in your area simply by observing the market.
Remodeling your home, on the other hand, requires an added degree of flexibility and patience. Even though remodeling projects are scheduled out in advance, they're still subject to weather delays, design changes, and unforeseen structural issues, any of which can extend the process beyond its initial end-date.
Future Resale Value
Before you renovate your home, it's important to find out what its "capped value" is. Every home your neighborhood has a capped value or the highest possible assessment based on the attributes and desirability of your location.
Many people believe that a dollar put toward home renovation equals a dollar in added home value, but that's simply not the case. That's why it's crucial to calculate your remodeling return on investment (ROI) before you start renovating your home.
An easy rule of thumb is this: if you had to unexpectedly sell your renovated house in the near future, would you owe more than your home was worth? This 2020 Cost Versus Value Report can help you find the upgrades and remodeling projects that are most worthwhile in your area, at least in terms of resale value.
If you're ready to explore your home renovation options, the team at HDC can help — call our office or click online to schedule a meeting with one of our remodeling experts or click here to request a detailed pricing guide.
For more home-related information and advice, subscribe to our monthly e-newsletter or follow us on Facebook and Instagram.