The transition from military service to civilian life can be challenging, especially for veterans who have sustained serious disabilities that limit their mobility and restrict their independence.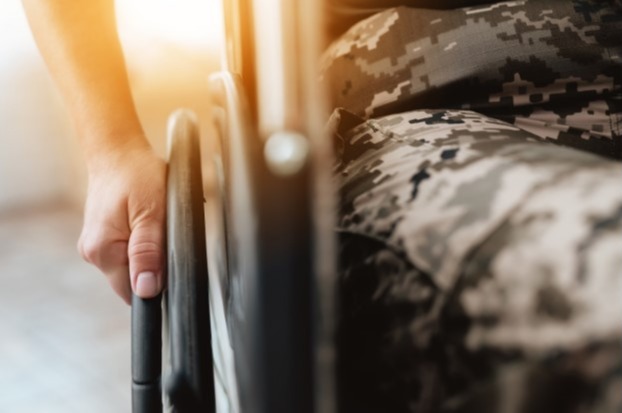 Fortunately, the U.S. Department of Veterans Affairs (VA) offers disabled veterans and service members a game-changing opportunity to offset their physical impairments and make everyday life easier: by offering specially adapted housing (SAH) grants.
As a SAH remodeler and builder with years of experience, Hogan Design & Construction is committed to helping disabled vets realize the kind of barrier-free living that allows them to be as mobile, unimpeded, and independent as possible in their own homes.
SAH Grant Basics
The VA offers SAH grants for eligible disabled veterans who require financial assistance to make an existing home accessible or to buy or build a new one that suits their physical needs.
By giving severely disabled vets a way to live more independently in their homes, SAH grants help wounded warriors improve their quality of life and restore normalcy to their daily routine. Most SAH grants are typically used in one of three ways:
Remodel an existing home to make it fully accessible
Build a fully accessible or specially adapted home
Acquire a fully accessible or specially adapted home
Disabled vets can also apply SAH grant funds toward the balance of an unpaid mortgage for a specially adapted home that they already remodeled, built, or bought without VA assistance.
SAH Grant Qualifications
The SAH grant is available to veterans who have a permanent service-related disability that severely limits or altogether prevents the use of their legs (lower extremities) or arms (upper extremities).
Vets who can't move without the aid of braces, canes, or a wheelchair because they've lost (or lost the use of) both feet or legs qualify for a SAH grant, as do vets who've lost (or lost the use of) one foot or leg along with their sight.
Veterans who've lost (or lost the use of) both arms also qualify, as do vets who've lost (or lost the use of) one arm and can no longer maintain proper balance without a walking aid.
This list is by no means exhaustive; click here to learn more about the VA qualifications for SAH grant recipients and find out if you — or a veteran in your family — may be eligible.
It's also important to note that the SAH grant isn't the same as the special housing adaptation (SHA) grant, which is a smaller grant that's available to vets who've been blinded, lost (or lost use of) both hands, or sustained severe burn or respiratory injuries during the course of their service.
Click here to learn more about the difference between SAH and SHA housing grants, including the current award cap for each. You can find the VA's most current application form here.
SAH Renovation Projects
Just as an accessible home built from scratch is designed to provide an individualized, barrier-free living for its occupant, the goal of a SAH remodeling project is to modify a standard home so it becomes fully accessible.
As a full-service builder/remodeler, HDC specializes in both types of SAH grant projects (new construction and existing home renovations). Most veterans use their grant money to renovate an existing home, as opposed to using it to offset the higher cost of building from scratch.
Although each SAH remodeling project is tailored to the specific needs of the grant recipient, most projects involve modifications in the following areas:
Bathrooms, kitchens, and bedrooms
Hallways, entryways, and stairs
Doors, windows, and flooring
Covered porches and open decks
Garages, carports, and walkways
Some of the specific modifications that are covered under SAH grants include:
Wheelchair ramps and wheelchair-friendly flooring
Wider entryways, doorways, and hallways
Wider garages or carports (to allow wheelchair entry into a vehicle)
Safe, functional, and fully accessible bathrooms and kitchens
Easy-to-reach light switches, fuse boxes, and outlets
A zone-controlled HVAC system or generator backup
Smoke/carbon monoxide detectors with special alarms
Even after a qualifying, disabled vet is approved for a SAH grant, the VA won't disperse the funds until they've evaluated the renovation plans (or finalized construction blueprint) to ensure they meet the minimum requirements put forth by their strict code of standards.
SAH Renovation Success
Given that the VA has such a strict code of standards when it comes to providing veterans with full accessible housing that helps them achieve barrier-free living and greater independence, it's always a good idea to work with an experienced contractor who's SAH-compliant.
As a SAH-compliant remodeler/builder with over two decades of experience, HDC goes above and beyond the "minimum requirements" of compliance to deliver an outstanding — and fully transparent — renovation experience that keeps you in the loop every step of the way.
Click here to schedule your free in-home consultation or subscribe to our monthly e-newsletter; to learn more about current HDC projects and initiatives, follow us on Facebook or Instagram.