When the days are long and the weather is mild, you want to spend as much time outdoors as you can, especially if you feel that summertime is synonymous with outdoor living time.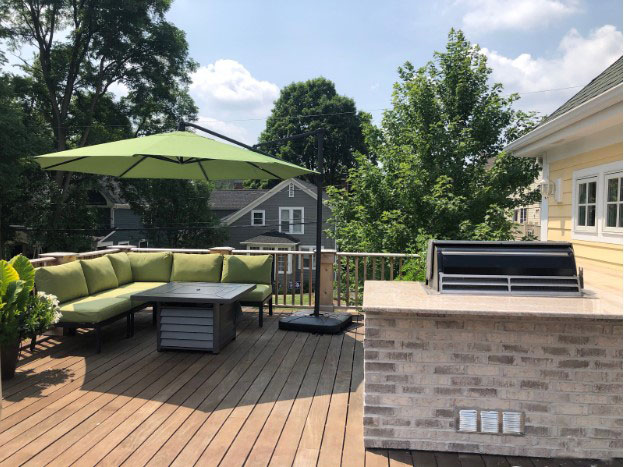 There are lots of ways to get outside and enjoy this warm, easy season. You can go for a walk in your neighborhood, ride your bike along the local trails, or explore a nearby nature preserve; or you can simply hang out in your own yard or on your porch, patio, or deck.
A rooftop deck is another great way to get outside without having to leave home. But building a rooftop deck expands your outdoor living space in a way that no basic porch, patio, or deck can — it gives you a secluded oasis where you relax as you enjoy a bird's eye view of the world.
If you're thinking about adding one of these structures to your home, here are four things you should consider before you get too far in the planning process.
1. Check Your Local Building Codes
Before you spend another minute daydreaming about sitting on your rooftop deck at night and gazing at the stars, it's important to find out if your city and/or homeowner's association will even allow you to build a rooftop deck.
Not sure where to start? Your local building department can give you detailed information on pertinent building codes, including if there are any zoning restrictions that prohibit adding a deck to your flat roof.
Even if you happily find out that your project can move forward, knowing the local building codes before you get started can inform your planning process and help you save a lot of time and money in the long run.
2. Make Sure Your Roof is Up to the Task
You can't build a deck on a roof that doesn't have the structural load capacity to handle the extra weight, so it's imperative that you find out what the loading requirements are in your area (a local building code official can help you with that one, too), and whether or not your existing roof is up to the task.
Building a deck over a flat roof is a lot like building a deck over a concrete patio; such decks are often referred to as "floating decks" because, instead of being secured in place as a stand-alone structure, they're merely "placed" on top of another structure — in this case, your roof.
Ask a builder/remodeler or structural engineer to determine the loading capacity of your roof. They can figure out if your existing roof is strong enough to support the weight of a deck, which usually amounts to an extra 55 pounds per square foot.
And even if your roof is strong enough, they can also make sure it's not past its prime. If your home's existing roof is aging or considerably worn, you may need to replace it before you build a new deck over it.
3. Determine Roof Access — Twice
First, the fun part: how will you gain access to your rooftop deck once it's finished? Will you have interior access, exterior access, or both? Will you need to turn an existing window into a door or create a new opening for a door or a hatch? Will you need to build an interior and/or exterior staircase?
Next, the more complicated part: how will the builders gain access to the roof to construct your deck? Whether it's an existing staircase (interior or exterior) or a temporary structure like outdoor scaffolding, both the crew and the building materials need pivotal access to that space.
4. Consider Design and Material Options
If you've long dreamt of adding a rooftop deck to your home, chances are you have a few ideas about how that space should look and feel when it finally comes to life.
You may want to include built-in seating or an overhead element like a pergola; you may even want to build a staircase to connect your new rooftop deck to an existing backyard deck — the sky's the limit.
Don't forget to consider plantings, including existing trees. Plants and trees both provide plenty of ambiance, but only trees provide shade. If there's no shade over the rooftop deck area, you may want to plant new trees for future benefits.
A major part of the design process is choosing the right materials for your deck. A rooftop deck is generally more exposed to the elements than a basic backyard deck or a covered porch, which helps you determine the types of materials you should choose (hint: skip any material that gets too hot or doesn't hold up under extreme heat, like PVC).
And remember, if you don't have a lot of your own ideas, a full-service builder/remodeler who works with a professional design team can help you plan your space wisely and beautifully.
Click here to subscribe to our monthly e-newsletter or schedule an in-home consultation (or a virtual design consultation) with the team at Hogan Design & Construction. To learn more about current HDC projects and initiatives, follow us on Facebook or Instagram.