Whether you keep them on index cards, in your smartphone, or entirely inside your brain, life's endless to-do lists can help you stay organized and on top of your world — or they can provide a constant reminder of all the little things that never seem to get done.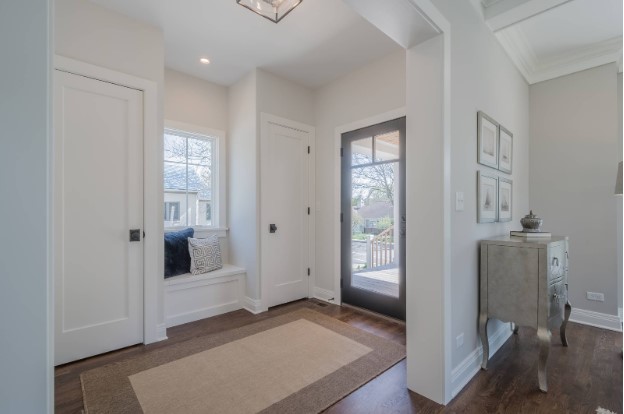 Entry by Hogan Design & Construction
It's easy to put off the "handyman" projects and minor home repairs that you've learned to live with, especially when you're busy meeting your family's daily needs, tackling an important work project, or keeping your house clean (enough).
Don't let minor repairs and projects become major headaches that stress you out or make your space feel less enjoyable — the seasoned pros at Hogan Design & Construction can help you get your home in order in no time flat.
Let's explore the problems, repairs, and projects that crop up most often in today's home:
Walls and Woodwork
The interior walls of your home can take a real beating, especially in high-traffic areas like the entryway, hall, kitchen, or powder room. While walls that are marred by years of grime may just need a fresh coat of paint, walls that have cracks, major holes, or any other significant area of damage require seamless, professional repair.
The same goes for your woodwork — baseboards, windowsills, and interior door casings may be durable and built to last, but that doesn't mean they're impervious to unsightly chips, dings, and cracks, or even board-buckling water damage and rot. Have them repaired when possible (and replaced when needed) to keep your home looking its best.
Ceilings and Floors
Just like walls and woodwork, ceilings and floors need a little TLC sometimes. A dingy ceiling that hasn't seen a fresh coat paint in years look perfect after a proper refinishing, while a coat of wax and a good buffing can transform worn, lackluster wood floors into a thing of beauty.
It's not unusual for ceilings to develop a few hairline cracks, especially in an older house or one that's shifted slightly on its foundation. Even if you're not ready to address any major structural issues, repairing visible ceiling cracks is the best way to keep them from growing bigger.
It's also a good idea to repair loose, cracked, warped, or damaged areas of wood, laminate, ceramic, or linoleum flooring right away unless you plan to replace the entire floor soon.
Kitchens and Bathrooms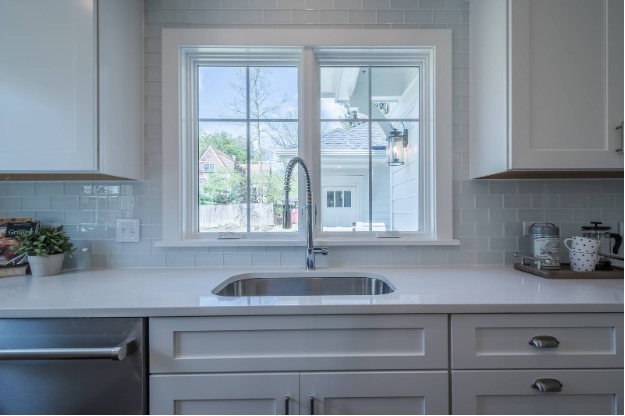 Kitchen by Hogan Design & Construction
As the most essential rooms in any house, your kitchen, and the main bathroom are designed with optimal function in mind. Given that your family relies on these key spaces, it's important to take care of the surfaces and fixtures that keep each one operational.
Some of the most common (and pressing) handyman repairs and projects are found in kitchens and bathrooms. You may need to:
Replace an outdated faucet or sink.
Fix leaky fixtures (tap, showerhead).
Install or repair tile and grout.
Repair or replace worn countertops.
Paint or update dated cabinetry.
Fix loose or misaligned cabinet doors.
Resurface porcelain sinks and tubs.
Don't leave any kind of moisture problem on your list for long, either — whether it's behind a faucet, under a sink, or at the base of a toilet, it's a good idea to correct the underlying issue and repair the damage as soon as possible, so it doesn't lead to mold.
Lighting and Minor Wiring
The right interior lighting can transform your home like nothing else. Even so, installing new light fixtures (or repairing old ones, for that matter) is a complicated and time-consuming undertaking that's best left to the pros.
Whether you've been reaming of illuminating your kitchen island, putting dimmers on all the fixtures in your master bath, or installing high-efficiency smart lighting throughout your house, the team at HDC can get the job done. We can install ceiling fans and upgrade old switches and outlets, too.
No matter what your handyman projects happen to be, chances are we can help — call our office or click online to schedule a walk-through with one of our home repair experts today.
For more home-related information, tips, and advice, subscribe to our monthly e-newsletter or follow us on Facebook and Instagram. Hogan Design & Construction (Geneva, Illinois) specializes in Residential and Commercial Design, Development, Remodeling, Contractor, and Construction.