The day you've been patiently awaiting is finally on the horizon: after years of dreaming, weeks of planning, and months of hard work, your home renovation project is nearly done, and you're about to schedule your final walk-through with the contractor.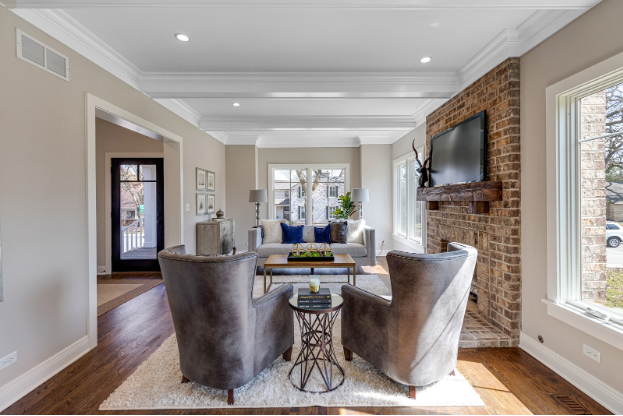 Residential Design & Build by Hogan Design & Construction
Even if you've been there for every step of the remodeling process, the final walk-through is the first time you really get to see your new space in its finished, fully realized form.
It's an exciting time, to be sure, but it's also a purposeful time that gives you the opportunity to ensure the completed project aligns with your original vision and meets your expectations of high-quality, enduring craftsmanship. Here's how to make the most of your final walk-through.
Establish Your Goals
Your final walk-through may be the first time you're able to get a feel for your new space and appreciate its finer details, but you're not simply there to ooh and ahh over aesthetics.
What you are there to do is make sure that nothing is out of place or left undone, that every new appliance, light fixture, sink, toilet, shower, window, door, and drawer is in perfect working order, and that there are no dents, chips, nicks, or marks on any surface.
You're also there to learn how to operate smart appliances, thermostats, and light fixtures with advanced features, collect operator's manuals and product warranties and learn how to care for and maintain the new surface materials in your space.
Finally, you're there to make sure your contractor has achieved the ultimate objective, and that the look and feel of your fresh, new space is exactly what you envisioned from the start.
Prepare a List of Questions
Like any goal-oriented meeting that covers a lot of ground, it's a good idea to come to your final walk-through with a list of questions, your own punch-list, or all of the above.
If your renovation project includes a new HVAC system, you may have questions about what kind of maintenance it requires to stay in peak condition. If it includes pristine hardwood flooring, shiny granite countertops, or shimmering glass tile walls, you probably want to know how to keep them clean without harming their finish.
Remember, a little bit of advanced preparation helps ensure you won't forget to ask specific questions or address any concerns; it also helps ensure you won't overlook any details.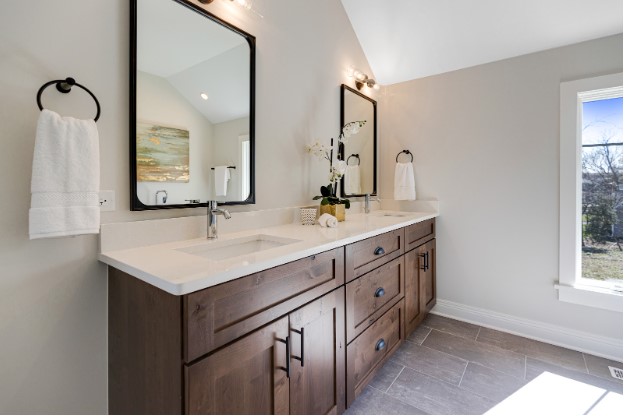 Bath Vanity Design & Build by Hogan Design & Construction
Pay Attention to Details
While the specific elements of your remodeling project help shape and determine the kinds of questions you ask during your final walk-through, every homeowner should be ready to go over the standard "punch list" of items, or details that should be inspected at the end of any project.
This includes everything from making sure all surfaces (walls, floors, countertops, etc.) are free from dust and debris to ensure all new light switches, fixtures, and appliances work properly. It also includes making sure that all new plumbing works as it should (sinks, toilets, etc.).
You may also inspect a new countertop for chips, dings, or scratches, check the grout lines in a tiled backsplash, make sure hanging cabinets and shelves are level and aligned, and test every new window and door to see if it opens, closes, locks, and unlocks with ease.
While you can find several different "final walk-through" checklists online, most are designed for homebuyers to use prior to closing. This one, which is for new construction, can give you a better idea of some of the things you can expect to cover during a typical walk-through.
Ask About Warranty Coverage
Many builders offer a one-year guarantee on workmanship and materials which covers any unexpected problem that may arise as time goes on, such as a nail pop in your drywall.
Ask your contractor what kind of workmanship and material guarantee they provide, and be sure you understand exactly what that warranty covers.
Because the team at Hogan Design & Construction takes great pride in providing high-quality craftsmanship that's built to last, we offer a limited lifetime warranty that goes far beyond the 12-month industry standard — we stand behind our work 100% for as long as you live in your home, or until you alter the space.
Speak Your Mind
If you're delighted with your new space and your contractor got everything just right, let them know — and if you feel like it, let your family, friends, neighbors, and colleagues know, too.
But if something feels a bit off, don't be afraid to say so — a good contractor always strives to exceed expectations, and would rather have the chance to address a problem or concern than leave you feeling less than satisfied with the outcome of the project.
The HDC Difference
At Hogan Design & Construction, we don't view the final walk-through as a time to go over routine punch-lists, instructions, and warranties. Instead, we treat it as a time to celebrate your completed project and your beautiful new space.
Our project managers use a working punch-list throughout your renovation to ensure that no detail is left undone by the time you reach your final walk-through.
We aim to stay ahead of — and ultimately eliminate — the "final" punch-list by listening to your feedback along the way and responding with necessary adjustments in real-time.
When your project is 80% complete, your HDC project manager walks you through our working punch-list, and collects your list of additional items, details, wants, or needs. That's how we can be sure that when your project finally reaches completion, it's exactly that: 100% complete.
For more home renovation information, tips, and advice, subscribe to our monthly e-newsletter or follow us on Facebook and Instagram.