If you're anything like the average homeowner, you've put a lot of thought and energy into creating interior spaces that you love spending time in; comfortable, livable spaces that feel welcoming and reflect your personal design aesthetic.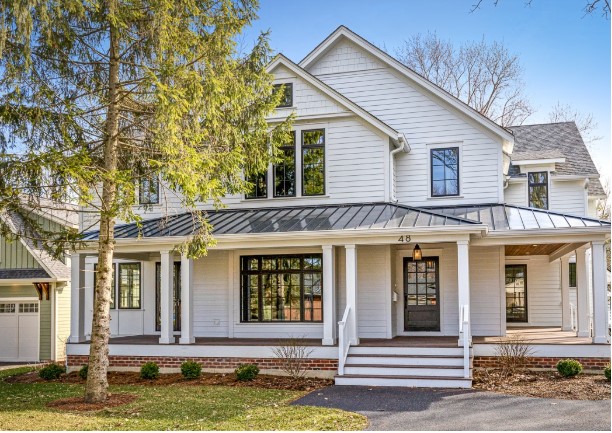 Home by Hogan Design & Construction
A stunning interior deserves an equally appealing exterior, or one that's just as charming and inviting as the space it contains. Luckily, you don't have to spend a lot of money or take on a major remodeling project to inject fresh life into the façade of your home — there are dozens of simple and inexpensive ways to create instant curb appeal.
Here are a few of our favorites:
Refresh Your Front Door
Take a look around your neighborhood. How many houses have a white, black, brown, or grey front door that blends right in with the rest of the exterior? How many have a brightly colored or contrasting door that offers a winning point of visual interest?
Just as you recognize curb appeal when you see it, you definitely notice when it's missing. To give the exterior of your home a lovely focal point as well as some much-need personality, paint your front door with a bright, bold, or contrasting color that offsets the color of your house in a harmonious and perfectly coordinated way.
Add Custom Window Shutters
Adorning your windows with stylish shutters is a great way to add dimension and character to your home's exterior, no matter what it's architectural style. Whether you choose modern flat panels, traditional louvered panels, whimsical cut-out panels, or something else, shutters can completely redefine the appearance of your house.
Like any other aspect of your home's exterior, shutters provide an ideal opportunity to make your house stand apart from the other houses in your neighborhood. Your shutters may match the trim and the front door, or you may choose a well-balanced color scheme that highlights and celebrates each of these elements. The options are endless.
Replace Tired Hardware
Replacing outdated or overly basic hardware is a quick and easy way to transform your front door in an instant. Swap out tired knobs, locks, hinges, knockers, and kick plates for ones that are sleeker, more refined, or more in keeping with your personal aesthetic.
While you're at it, don't be afraid to trade old, clunky house numbers for ones that are fresh and modern; if your mailbox is past its prime, consider replacing that, too.
Update Your Light Fixtures
Exterior light fixtures don't simply illuminate the entryways of your house — they enhance its appearance. Replacing cheap or unfashionable fixtures with smart, well-designed lighting that complement the style and aesthetic of your house can be a real game-changer when it comes to improving your home's curb appeal.
If you don't want to hire an electrician, look for lights that have the same mounting system as your current lighting. Select fixtures that play off the other design elements of your home, and make sure they're just as functional as they are beautiful.
Front Porch & Lighting Design by Hogan Design & Construction
Beautify Your Walkway
There's nothing more welcoming than a wonderful walkway that leads straight to your door. Transforming a simple and otherwise boring walkway into one that's a pleasure to step across can be incredibly exciting, especially when you consider the possibilities.
You don't need to install a completely new walkway to transform yours: simply frame it with a brickwork border, highlight it with neat flowerbeds, illuminate it with solar landscape lights, or all of above. If your walkway is made of concrete that's seen better days, use quick-dry cement to repair minor cracks, improve its appearance, and prolong the life of any damaged slabs.
Create Visual Symmetry
Visual symmetry is an essential design element in any space, including the exterior spaces that make up the outside of your home. That's because symmetry offsets the unexpected elements of design — like that pop of color on your front door — and creates a subtle feeling of balance, harmony, and stability.
Visual symmetry can be as simple as placing a pair of large urns on either side of your walkway near the sidewalk or curb — along with a matching set on either side of your door — that you can fill with your favorite annuals, perennials, and seasonal greens all year long.
It might also take the form of new trees or bushes, well-placed window boxes, or even dramatic up-lighting that highlights landscaping or the front of your house. The possibilities are endless.
Click here to subscribe to our monthly e-newsletter, or follow us on Facebook and Instagram to stay in-the-know about upcoming Hogan Design & Construction workshops and events.