It can take years of planning and saving to pull off the kitchen renovation of your dreams. In the meantime, you don't have to simply make do with what you've got: you can tidy, organize, and optimize your space so it works better for you.
Nothing's more lifechanging in an outdated, ho-hum kitchen than a total cabinet revamp. And no, we don't mean swapping out hardware and painting, refacing, or otherwise changing the appearance of your cabinetry — we're talking about transforming your cabinet interiors from a cluttered mess into an orderly, well-organized storage space.
To that end, here are 8 genius, budget-friendly fixes that can help you create functional and efficient kitchen storage that's easy to use and a pleasure to look at, each and every time you open a cabinet or drawer:
1. Drawer Pegboard System
Many kitchens include deep drawers for storing larger items. It can be difficult, however, to keep these cavernous boxes tidy and organized, especially if they contain bulky, high-use items like pots and pans or daily dishware.
We'd like to let you in on the best-kept secret in kitchen cabinet organization: customizable peg systems for extra-large drawers. This innovative system uses a fitted pegboard at the bottom of the drawer that gives you a way to create zones for stacking cookware, dishware, mixing bowls, and other cumbersome items — simply set the moveable pegs in a pattern that keeps each stack perfectly corralled in its own area.
2. Retrofit Slide-Out Shelves
Unless you're a minimalist, certain things probably tend to get lost at the back of your kitchen cabinets. Luckily, there's a smart organizing solution that can help you arrange the items your cabinet and give you full access to each and every one of them — slide-out shelving.
Swap out the fixed shelves of one or two of your base cabinets for shelves (or drawer boxes) that effortlessly slide out for full access. With sliding shelves, you can see and grab items at the back just as easily as you can see and grab the items that are at the front; a shallow lip around each shelf keeps items secure.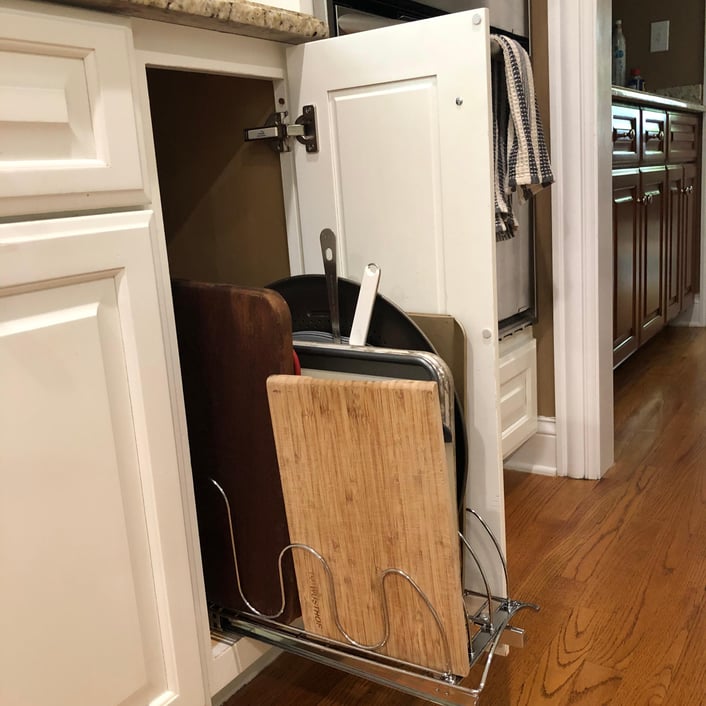 3. Narrow Pull-Out Rack
Make a sliver of space in a deep base cabinet work overtime by installing a narrow pull-out rack for spices, oils, and vinegars, tea canisters, or other small containers you'd like to have easy, organized access to. Pull-out racks have a series of long, narrow shelves that extend toward the back of your cabinet; they're fairly simple to install and come in a wide range of sizes.
4. Custom Drawer Dividers
Without some kind of divider system in place, the average kitchen drawer tends to become a catch-all, jumbled mess. Assess your flatware and cooking utensil collections before you look for dividers to ensure you choose the products that best meet your needs.
There are expandable dividers with multiple compartments, stackable dividers that allow you to store in layers (daily flatware on top, rarely used cooking utensils below), and module dividers that can be mixed, matched, and reconfigured as desired.
5. Adjustable Tiered Shelves
Most wall and base cabinets include one or two fixed shelves, a standard feature that doesn't really optimize the space as well as it could. Give your cabinets a major organizational boost by setting a standing adjustable shelf or tiered shelf on top of each fixed shelf.
Adding extra surface area can help you minimize messy stacks, organize glasses, bowls, and plates, and bring order to pots, pans, skillets, and lids.
6. Vertical Cabinet Dividers
Whether you use repurposed tension rods or you purchase a vertical divider system that's specifically made for upgraded cabinet storage, creating tall, narrow "slots" in a base cabinet is hands-down the best way to store baking sheets, muffin tins, cutting boards, and anything else that normally gets stacked away in an unruly drawer.
7. Corner Cabinet Turntable
A cabinet turntable (also known as a lazy Susan) is like a secret organizational weapon when it comes to optimizing storage and making dead space more functional. Turntables come in various sizes to fit any cabinet space, but they're best utilized in deep corner cabinets where it can be difficult to reach items in the back.
A large multi-level turntable set in a base corner cabinet is a great place to keep food storage containers and lids, while a single-level turntable in an upper corner cabinet provides full and easy access to a large spice collection.
8. External Hanging Systems
Whether you have a small kitchen or you simply have more kitchen items than your cabinets can comfortably hold, the key to successful, sustainable organization is to keep your storage spaces free from overcrowding.
As such, it's often helpful to "think outside of the cabinet" and look for other places to store certain items or collections. In the kitchen, this usually means turning to some type of external system, like a hanging pot rack over an island, or a magnetic knife strip along a backsplash.
Taking certain like-items out of your cabinets and drawers doesn't just free up valuable storage space, it also makes those items more accessible and redefines the feel of the room.
For more home-related trends and advice from the team at Hogan Design & Construction, subscribe to our monthly e-newsletter, read our weekly blog, or follow us on Facebook and Instagram.