A pergola may just be four simple posts topped by an open-roofed grid of beams and rafters, but its enduring charm and endless design potential can transform an uninspired backyard into a cherished outdoor living space.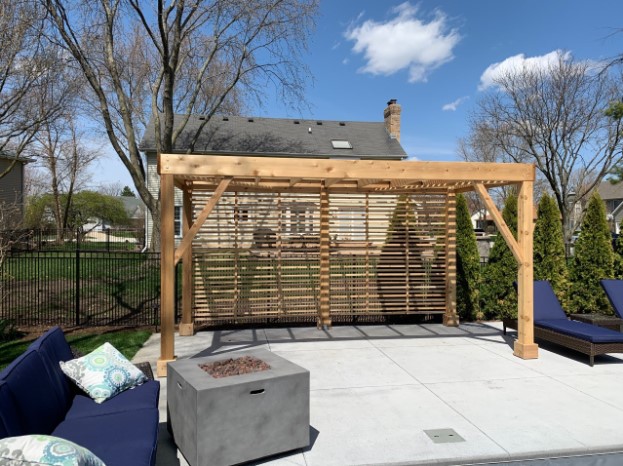 Pergola-Cabana Design & Build by Hogan Design & Construction
Whether your pergola is lush with climbing plants and vines, trimmed in whimsical lights, or left completely unadorned, chances are it feels like a lovely, airy outdoor room.
If you wish that your pergola provided more shade from the midday sun, better protection from the rain, or all of the above, the solution is as simple as finding the right cover. Here are just a few of our favorite options.
What is a Pergola, Exactly?
Pergola is rooted in the Latin word pergula, meaning a flat "projecting eve" or an extended roof. It couldn't be a more fitting description, given that pergolas are traditionally built along one side of a house (attached or freestanding), often over an adjoining patio or deck.
Incorporating a pergola in your outdoor space adds an understated architectural element that helps define that space. It's not just the visual centerpiece of your yard; it's also the designated place to sit and relax or gather with family and friends for an outdoor meal.
In many ways, a pergola is a tale of two opposites — it's simultaneously open and structured; fresh and classic; simple and versatile. The design possibilities are virtually limitless.
With their dramatic stone pillars and hefty wooden crossbeams, early pergolas had a decidedly medieval feel. Modern pergola design, on the other hand, embraces a wide range of materials and styles to blend in seamlessly with your home.
---
Ready to Schedule A
Free Consultation?
Take the first step. Virtual or in-home appointments are available. We're ready to listen and help you transform your home into the dream space you've always imagined.
---
More Shade, Shelter, or Both?
Whether your pergola is made of traditional wood, sophisticated concrete, sleek aluminum, or modern steel, it probably has a fairly open roof structure that creates a pattern of sun-dappled light across your patio, deck, or walkway.
That's because pergolas are designed to filter light rather than block it out completely. Adding a well-chosen pergola cover can both enhance this light-filtering effect and provide increased (if not complete) protection from the rain.
Climbing Plant Cover
Throughout history, pergolas have been used to beautifully support climbing plants and vines in the garden. If you like the idea of a living pergola cover — one that's vibrant, lush, and changes with the seasons — a natural plant cover is a perfect solution.
While the overall size of your pergola will help guide plant type and quantity, choosing climbing plants that grow densely or have large leaves can provide more complete coverage. Your local nursery can help you find the best-suited vines and climbing plants for your pergola.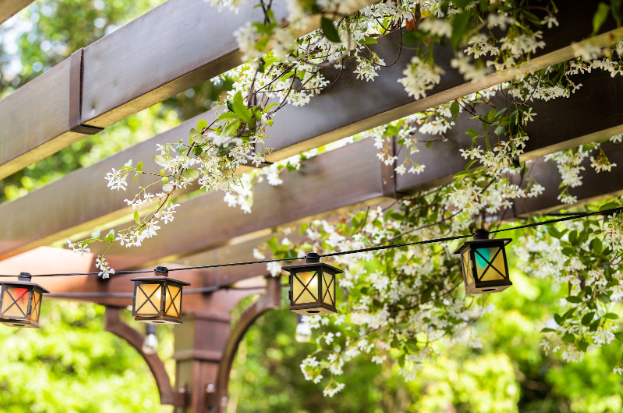 Custom Fabric Banding
Using rows of outdoor fabric "ribbons" to create an interlaced pergola cover is an elegant and relatively inexpensive way to get more shade and protection. Even better, fabric banding is easy to customize for the perfect look.
The sky's the limit when it comes to making a banded fabric cover for your pergola — not only does outdoor fabric come in a wide variety of patterns, colors, and weave densities, but it can also be styled in many different ways.
You can lay parallel lengths of fabric across the top of the pergola, allowing draping them to drape between the rafters like undulating waves. You can also weave fabric ribbons in and out of the rafters, pulling them taut in a chic pattern from beam to beam.
Full Fabric Canopy
As one of the easiest and most functional ways to cover a pergola, a full fabric canopy uses an entire piece of outdoor fabric to provide seamless shade and near-total protection. Like custom fabric banding, you have a wide range of outdoor fabric options to choose from.
You can also decide how you want to position your full cover — although many people opt to simply stretch their cover from beam to beam, others choose to position it at a slightly askew angle for a more modern feel.
You can also stretch a shade sail canopy below the rafters for the ultimate summertime look.
Retractable Fabric Canopy
A retractable fabric pergola cover can be as simple as a DIY canopy installed on guide wires, or as polished as a custom-fitted canopy that's installed on a track and uses a central drive beam to operate the mechanism.
A retractable canopy system can be mounted to most types of pergola frames, including those made of wood. At the push of a button (or pull of a cord), this innovative solution provides full shade and protection when you want it, and plenty of sunshine and open-air when you don't.
Both DIY and custom retractable canopies are available in a wide range of colors, patterns, and weaves to coordinate with your outdoor furnishings and decor.
Solid Fixed Panels
While custom light-filtering panels may be a bit more costly than other pergola cover options, they're an ideal solution if you're looking for a cover that doesn't need to be stored through the wintertime, replaced after a few seasons of use, or tended to as it grows.
Homeowners have used wood, tin, steel, and aluminum panels or planks to successfully — and beautifully — cover their pergolas, but we're more partial to light-filtering materials like frosted polycarbonate, which blocks direct light without creating too much shade.
If you want to stay dry but you don't necessarily want more shade, clear polycarbonate panels can help you get the job done beautifully.
As full-service builders and remodelers who understand the many benefits that beautiful and functional outdoor living spaces can provide, the team at Hogan Design & Construction can help you understand your pergola cover options so you can find the one that best suits your style and fits your needs.
For more home-related tips from HDC, subscribe to our monthly e-newsletter or follow us on Facebook or Instagram.