I don't know about you, but 2020 is off to a hectic start and I am already dreaming of a day of relaxation. While a spa day might not be in the near future (especially after all the end-of-year holiday expenditures), there are things you can do to your own bath space to create a relaxing get-away at home.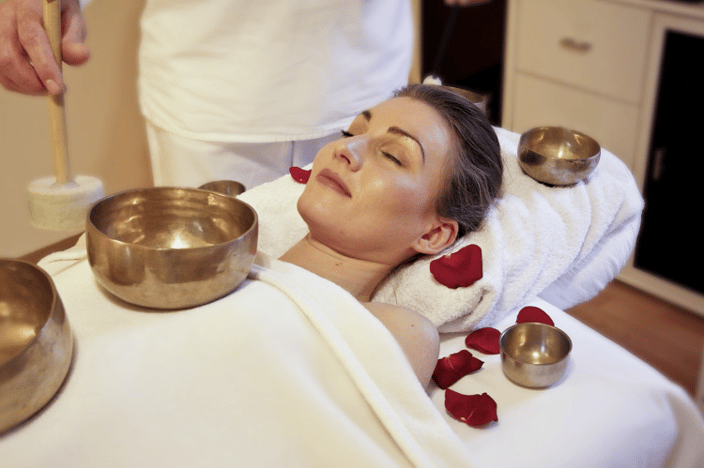 Image by Jürgen Rübig from Pixabay
HDC's Top 7 Design Tips to evoke that spa-like feel in your own bathroom.
A personal masseuse, indoor wading pool, and sauna at home would be nice. However, the majority of people do not have that luxury. Even so, other elements of a spa can easily be achieved and implemented in a space.
If you are in the market for a remodel, take the following tips into account as you design your new space. If renovations are just not feasible at the moment, these ideas should help get you closer to that at-home spa you are dreaming of.
Bath design by Hogan Design & Construction
1. Minimize Clutter & Improve/Add Storage
You are trying to inspire a place of relaxation. So, walking into a room filled with an excess of products and accessories on counters and shelves will just create anxiety.
Go through it all and get rid of anything you do not use. Check out these places that recycle unused/gently used health and beauty products.
Next, add organizers to vanity drawers to help tame small items. Use stackable containers and drawers to organize spare and less frequently used products in the cabinet under the sink.
Want to create a more open look? You can remove the cabinet doors and add shelving. Just be aware that some plumbing will be exposed and may need to be camouflaged.
If you still need to find more storage, use the space above the toilet. Add shelves or a narrow cabinet. Or, if there is a blank wall, use wall-mount baskets or bins to hide or display additional items.
For items that will remain on the countertop - like cotton swabs, hand soap and tissues - find plain containers preferably made of natural materials (i.e. wood, tinted glass or stone). They will create a fresh, clean look.
2. Choose Calming Colors & Subtle Patterns
Colors influence mood. To keep the space serene, go with a neutral color or find inspiration seaside - think pale blues and greens, sandy beaches and white-crested waves.
If you prefer wallpaper, go with a subtle pattern that won't over stimulate. If you add art, choose a piece that calms the soul and harmonizes with the hues in the space
3. Bring in Natural Elements & A Variety of Textures
We already mentioned using natural elements for display containers and accessories. Add a bamboo or teak slatted mat on the floor of your shower to bring in more wood elements.
Introduce plantlife into the space to help purify the air and connect you with nature. If shelf or counter space is looking too cluttered, consider wall mounted planters which can serve as a focal point for the room.
Invest in thick, plush new white towels to add texture and keep the room feeling fresh. An added bonus, they will make you feel pampered every time you step out of the tub or shower.
4. Use Lighting & Reflective Surfaces to Create the Right Space
Install adjustable lighting to give you the flexibility to match the mood you'd like to create. Candles can make a larger space feel more intimate. Using mirrors and light, you can also make a small space feel much larger and more open.
5. Introduce a Touch of Elegance
If you prefer wallpaper, go with a subtle pattern that won't overstimulate. If you add art, choose a piece that calms the soul and harmonizes with the hues in the spacen shower with multiple shower heads.
One of the easiest ways to add a touch of elegance to your bathroom is to upgrade the vanity drawer and cabinet pull hardware. Another way to create lavishness is with a beautiful lighting fixture (perhaps an opulent chandelier or luxe sconces).
If you are still looking into that builder grade mirror every morning, you can easily update and improve the look. This article from Apartment Therapy provides some great ideas and links to DIY projects.
6. Add Inviting Scents
A scented candle or an essential oil diffuser is a great way to bring in subtle fragrances that positively affect your mood. Just make sure it doesn't become too overpowering for the olfactory senses - a spa is for restoring and resetting, which won't happen if any one of the senses is kicked into overdrive.
7. Splurge on Pampered Accessories
If the budget allows and you are remodeling, add in the radiant floor heating and bidet. Or maybe just a heated toilet seat and towel warmer is better for your budget.
A bamboo bath tray to hold a glass of wine and book while soaking can make you feel spoiled. If you don't have a tub, consider adding a teak bench or stool to the shower.
Finally, add a hook to the back of the door for a soft, luxurious robe and a basket to house a pair of cozy slippers.
One doesn't have to do all of these things, but the more you do to create a clean, calm and inviting space, the more relaxed you will feel.
Interested in receiving more home-related tips and information? Subscribe to receive our monthly e-newsletter and follow us on Facebook and Instagram.