As a defining feature in any multilevel house, the staircase offers a versatile opportunity to bridge stories with style and elevate the average entryway: From risers and treads to railings, walls, and hidden alcoves below, the humble staircase has a lot more design potential than you may think.
Last week, we explored six space-transforming trends in stairway design that have been restyling steps and risers as well as banisters and railings across the country this year.
This week, we'll continue the conversation by focusing on the staircase design trends that are revamping walls and landings, as well as the alcoves and storage beneath, in 2022:
Staircase Design
In the first installment of this two-part series, we pointed out that the basic elements that go into making a staircase — from its central steps and risers (or lack of risers) to its supporting banister and handrail (or lack thereof) — are what place it on the traditional end of the design spectrum, the modern end, or at a transitional point somewhere between the two.
But at every point on the interior design continuum, there are distinct styles that carry their own aesthetic weight and infuse the spaces they define with a unique mood, tone, or vibe. Art deco and modern farmhouse both skew modern, for example, but each sets a totally different scene.
So, while the materials and construction used to create the basic elements of a staircase have a lot to say about where it lands on the design spectrum, the surrounding elements can help define the exact style you're going for in your space:
Walls and Landings
The walls that border a staircase and the extra space of a turning-point landing are like blank canvases that offer a golden opportunity for subtle or overt enhancement, depending on the overall tone you're aiming to set.
1. Color, color, color
When it comes to creating a stand-out staircase, a little bit of color can go a long way. The direction you take depends on the overall style of your space — some interiors welcome bold and unexpected jewel-toned accent walls, while others rely on a varied palette of neutrals. Whatever the case in your home, using color can set this transitional space apart as it brings adjoining spaces together.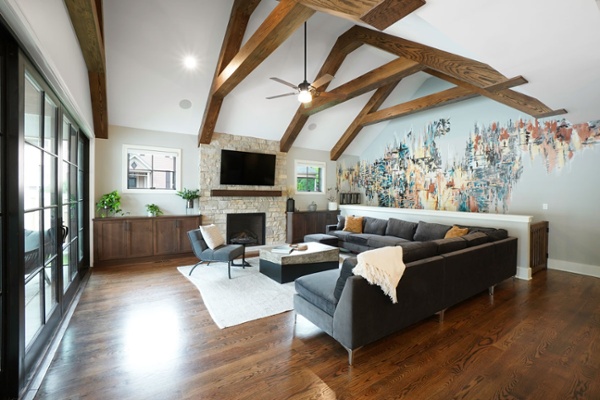 2. Wallpaper and art
The staircase is an ideal place to showcase wallpaper: From a subtle textural grass cloth covering to bold modern patterns, traditional floral motifs, and artful murals, wallpaper can integrate the themes and hues from adjacent rooms and blend them into a single unifying design concept.
If you don't want to commit to wallpaper, try artwork. Hang a well-edited collection of paintings or photographs alongside ascending steps, display an oversized contemporary piece at the top of the staircase, or place a one-of-a-kind sculpture next to the staircase in a sparse foyer.
3. Interspace library
If your staircase boasts a moderately sized landing space, consider installing a built-in shelving unit to house a mini library. In the world of classic design, staircases and libraries are often intertwined (see alcoves and storage, below).
Adding a mini library infuses this otherwise sparse inter-story passageway with the kind of mood, warmth, and visual interest that can only be found in a wall of colorful book spines.
Alcoves and Storage
The area beneath a staircase is never wasted: It has enormous design and storage potential just waiting to be discovered. Depending on your current space, it may take a minor remodel to fulfill your vision.
4. Alcove hideaway
Who doesn't like the idea of a cozy alcove hideaway? You can create one beneath a wide staircase in a foyer that's ample enough to accommodate a small workspace nook or an intimate seating area where you can have a quiet conversation or enjoy a relaxing cup of tea while you read a good book.
Even a standard staircase can provide enough of a hidden-nook opportunity to create an intimate and relaxing seating nook — or even an ideal place to pause and take a nap.
5. Under-stair storage
The area beneath a staircase also provides ample opportunity for increased storage space. While open shelving is a classic and versatile option, built-in drawers and glass-doored cabinets are an unexpected and highly functional choice that make use of every square inch.
And going back to the intertwined staircase-library design concept, you can also install built-in staircase bookshelves to store your favorite titles beneath every step.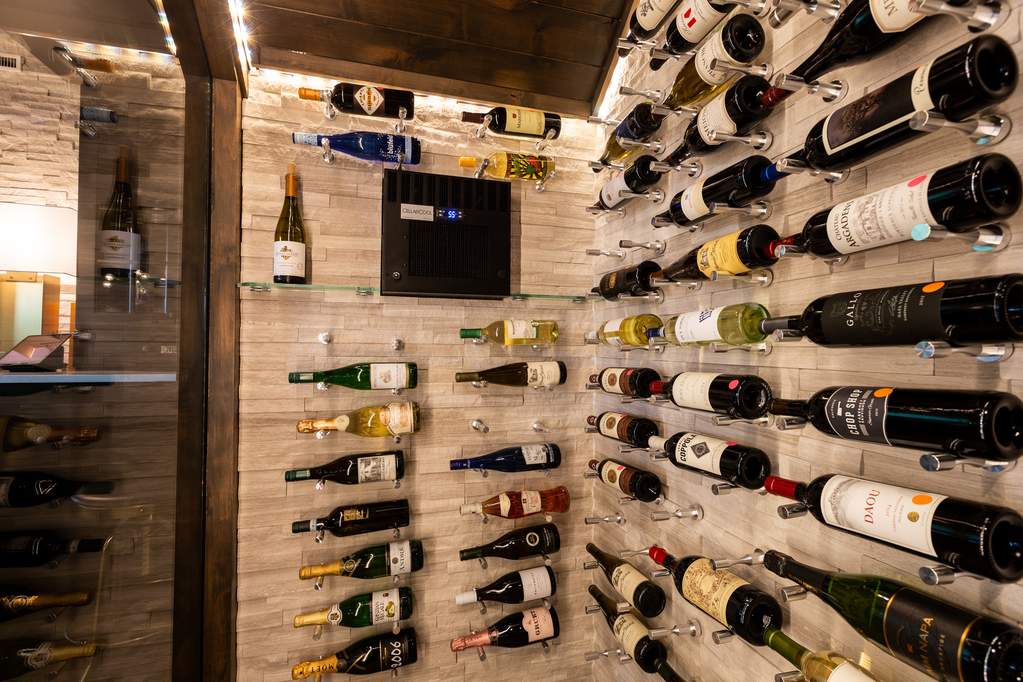 6. Collection showcase
Sometimes, there's no better place to showcase a prized collection — be it books, wine, or something else — than underneath a staircase. An illuminated climate-controlled wine wall can transform the blank area beneath a modern staircase into a masterpiece of sorts; a traditional under-stair library can feel like a room all its own, rather than a repurposed space.
Staircase Potential
Your staircase is full of possibilities, and we can help it reach its potential. Learn how our team of design and renovation experts can help you transform your space and fulfill your vision today.
For more home-related tips, trends, and advice from Hogan Design & Construction, subscribe to our monthly e-newsletter, read our weekly blog, or follow us on Facebook and Instagram.