It was 60°F this weekend and today it's snowing. It is officially springtime in the Midwest. Despite the white covering today, the added daylight and colorful blooms peeking through has us all focused on nature. Some of us have begun tending to our yards and gardens. And most of us want to spend more time outdoors.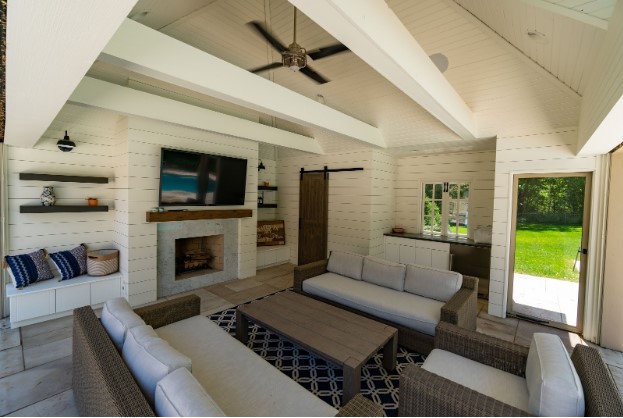 Pool House by Hogan Design & Construction
At Hogan Design & Construction, it is also a time when we begin to get inquiries about creating outdoor spaces for planned summer parties and outdoor retreats. Before we can start the design process however, we will have a conversation to understand what your needs and vision for the space are. After all, having a clear idea of what you want and require of the space will ensure that you are ultimately happy with the end result.
To help get you started, we have listed some key questions we might ask when we begin our conversation.
Top 3 Considerations When Planning An Outdoor Living Space
1. What space do you want to create and what footprint do you have available to work with?
Perhaps you would like to create a space that is an extension of your own home. Or maybe you want to create a retreat from your everyday life. It seems a simple question but it is the first in getting started.
The footprint you have available to work with can be a little tougher for some to determine. Some people may have large back and side yards that leave ample opportunities (sometimes another problem in itself), but there are options for front yards, small yards and no yards at all too.
Think of less conventional solutions. Front yard patios with the right landscaping and privacy can create a lovely little get away - think a garden oasis. A small passageway between homes can be a quaint entertainment space. Or maybe a rooftop garden and deck will make the prime chill or party local.
2. How does it need to function?
What do you envision doing within the space? If you are planning to host parties and entertain, you will require ample seating. If you are a chef or culinary enthusiast, you may want to invest in a full outdoor kitchen and a large community table for family and friends to gather.
If you want a place to chill and watch the big game, you will need to ensure that you include the proper set up to make that possible. You will also want to consider heating elements to take you into the fall football months. And comfortable seating will be a must.
Perhaps you want to add a hot tub or pool and think you may want a changing room and bath area for guests. Or maybe you just want a spot to read the morning paper, drink your coffee and greet the day.
Covered Porch By Hogan Design & Construction
3. Are There Environmental Factors You Need to Address?
Identifying potential issues and barriers to enjoying your outdoor living space is important as well. If you know what might become a problem, you can design solutions to reduce or eliminate the pains.
Do you live on a busy street or near the train tracks? If noise is a concern, there are elements that can be added to outdoor spaces to address these challenges. Adding and proper placement of a water feature can often drown out background noise. Designing the right barrier walls (either with landscaping or building materials) can also absorb sound.
If you are in close quarters with neighbors, you will possibly be concerned with privacy. You may want to discuss how you can create a secluded space without closing yourself off from potential views.
Or maybe your available space is set under full sun or shade. You will need to discuss options to provide shade, light and heat depending.
Thinking through all these details and scenarios upfront will go a long way when beginning the design process and get you closer to creating your dream space.
Ready to get started with your own project? At Hogan Design & Construction, we are available and happy to answer any questions you may have.
Click here to read more helpful home-related tips on our blog, or follow us on Facebook and Instagram to stay in the know about upcoming Hogan Design & Construction educational workshops and events.