A kitchen remodel is not an inexpensive undertaking, so when working with our clients we like to make sure that the design is built to last. The latest colors and trends may be passé in the next one to five years. However, there are a few "trends" that we think will remain classics and look good no matter what year it is.
Cabinets & Hardware
White shaker cabinetry is not going away anytime soon. It will stand the test of time and can be updated to fit the look-and-feel of the moment with hardware choices. For instance, brass has made a resurgence. Choosing the golden-hued option can warm up the space and bring it up-to-date. When the look no longer serves you, all you would need to do would be replace the hardware.

VIEW Our Complete Kitchen Portfolio
If our client prefers natural woods, we recommend flat panel doors. They provide a rich look that is far from old and stuffy. The contemporary style is also easier to wipe down. A trend we see, that is not necessarily new and indicates its timelessness, would be to forego hardware on the cabinet doors and drawers. This option results in a serene backdrop that feels like the natural world has been brought indoors.
Regardless of trends, the most important thing is that the finished space is one that our customers will love for a long time. Everyone has different tastes and it should reflect their own sense of style. We recommend that our clients look through what is available today (so much has changed since the '90s and early 2000s).
Open Shelving
Open shelving is a great way to create space and continues to be a trend. The modern farmhouse style staple usually uses natural wood to contrast white cabinetry. However, if not properly utilized, it can look cluttered. If you have mismatched plates and cups, doors may be the better choice. Or alternatively, use it more for display - using artful objects and plant life on the shelves to create texture and interest.
Countertops
Marble is beautiful, but not always practical. Most people are opting for surfaces that will hold up to heat and that are stain-resistant. Our favorite is still Quartz. With its built-in antimicrobial properties, there is less worry and easier cleanup. Quartz also offers so many styles and colors - even some that can get you that marble look for less cost and less hassle.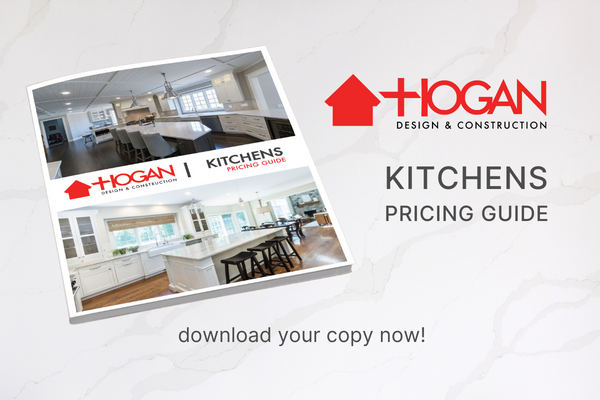 Back Splash
Glass and porcelain metro tile is not going anywhere. It is a classic backsplash that can work in almost any kitchen. Or, large slab backsplash creates a very streamlined look. And the lack of grout makes it easier to keep it looking clean and fresh.
If you want to add texture to the space, a trending alternative to the popular metro tile is the use of whitewashed or painted brick. It provides warmth and creates a sense of establishment - combining vintage with the contemporary.
Color
We always recommend going with a neutral palette and adding pops of trending colors with accessories. Beige, taupe, ivory, black, and shades of grays and whites fall under this category. When choosing your color(s), you will want to consider room size, lighting, and the feeling you want to evoke.
Statement Piece
Lighting and perhaps a beautiful, on-trend faucet is a great way to make a statement. Unique pendants, a contemporary chandelier, or a rich metallic faucet will draw the eye and be a great conversation starter.
Most importantly
More important than any design trend is to make sure that the room is functioning for your needs and that the flow makes it an enjoyable space to be in. It's never fun to be tripping over others or running into countertops. We always tell our clients that function is the ultimate design feature that will create a space they will love to be in.
For more home-related tips from the team at HDC, subscribe to our monthly e-newsletter, catch up on our weekly blog, or follow us on Facebook or Instagram.