In just a few short decades, the kitchen has gone from being a purely functional space hidden away at the back of the house to an efficient, beautifully designed hub of family activity that's widely regarded as the heart of every home.
If the kitchen is the proverbial heart of the home, then the island is the heart of most kitchens.
The kitchen island was simply an extra workspace until the 1930s when Frank Llyod Wright began designing open concept floor plans that removed the walls between dining and living areas. It wasn't long before the island became the place to sip a cup of tea or chat with dinner guests when dinner was still underway.
Since then, islands have continued to evolve, redefining the feel, flow, and function of today's kitchen at every turn. Here's what's new with this essential element of kitchen design.
An Oversized Statement
Spacious kitchens are in demand, and so are extra-large kitchen islands. An oversized island is a major design statement, to be sure, but it's also a functional powerhouse that provides a whole lot of extra cabinet, drawer, and counter space, not to mention space for extra amenities (see below).
A recent survey about trends in home renovation found that two-thirds of kitchen remodeling projects include adding a stand-out island or transforming an existing island into a design focal point. Most kitchen islands are 6 to 7 feet in length, but nearly one-third of new kitchen islands exceed 7 feet.
Oversized rectangular or square islands are in, while multi-level and L-shaped islands are out.
Contrasting Colors and Materials
Today's kitchen island is more than a multi-functional place to gather and prepare meals — it's the visual centerpiece of the space. More than ever, homeowners really want that centerpiece to stand out and set a welcoming tone that draws everyone in.
To create eye-catching kitchen islands that really shine, designers are using pops of color, wood stains that contrast with the main cabinetry, and unique countertop materials that are different from the main countertops.
Incorporating contrasting colors and materials can be as simple as choosing a warm-hued butcher-block countertop for an island that's surrounded by fresh white cabinets and quartz countertops. Once you start to explore your choices, the design options are endless.
Cascading "Waterfall" Countertops
If you'd like to infuse your space with a bit of everyday elegance, finish your kitchen island with a cascading countertop. Also called a waterfall countertop, this sophisticated and stylish trend carries a timeless appeal that instantly transforms the feel of any kitchen.
Whereas a conventional countertop is comprised of a single horizontal surface that covers a bank of base cabinets, a peninsula, or an island, a cascading countertop continues past the edge of an island and drops vertically down its two short sides all the way to the floor.
A waterfall countertop creates a continuous visual flow that's both understated and dramatic in equal measure. Let's face it — there's no better way to put a stunning countertop material like natural stone (marble, granite), engineered stone (quartz), and wood on display.

VIEW Our Complete Kitchen Portfolio
Well-Positioned Appliances
Today's modern kitchen islands and island upgrades typically incorporate new, well-positioned appliances that emphasize optimized workflow and place convenience front-and-center.
While many homeowners opt to install an in-unit dishwasher in their island, others opt to include a state-of-the-art microwave drawer, or wine storage (room-temperature racks as well as wine-cooling refrigerators).
Today's kitchen island is more likely to contain an ancillary sink and/or stovetop; it's also more likely to house a mini-refrigerator for the day's fresh ingredients, extra beverages, or whatever makes your life in the kitchen easier. Mini fridges in an island can also be at the perfect level for growing kids who like to get their own milk and juice.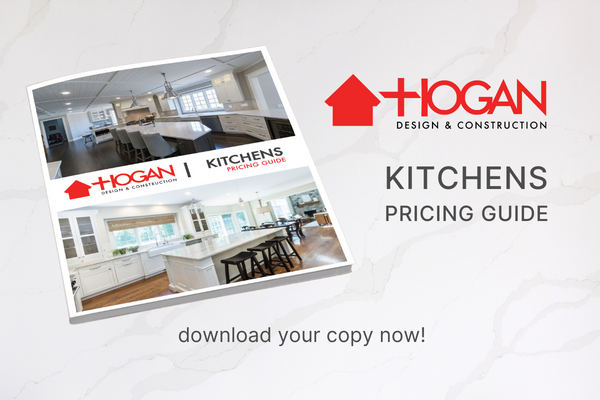 Thoughtful Features and Extras
The kitchen island has evolved to become a design focal point as well as a functional focal point — it's a food prep space, dining area, gathering place, impromptu homework zone, and center of perpetual activity.
It's the thoughtful features and extras — from additional storage to comfortable pull-up seating — that really put your island to work for you. Open shelves or glass-doored cabinets on one end of a kitchen island keep extra plates, bowls, and glasses in reach, while divided drawers keep extra utensils nearby.
Oversized pendant lighting and pop-up power outlets with USB ports for charging phones can make the island a more convenient place to work or do homework; phone-charging drawers are another practical feature of today's hardworking, multi-purpose kitchen island.
For more home-related trends and advice from the team at Hogan Design & Construction, subscribe to our monthly e-newsletter, read our weekly blog, or follow us on Facebook and Instagram.