The mid-western summer months will soon be upon us. This is something we are truly looking forward to, now more than ever. In HDC's last blog entry, we discussed some key questions to address when you begin to think about creating your own outdoor living space. For those of you that are ready to move forward with your project, that means it's time to move into the planning and design phase.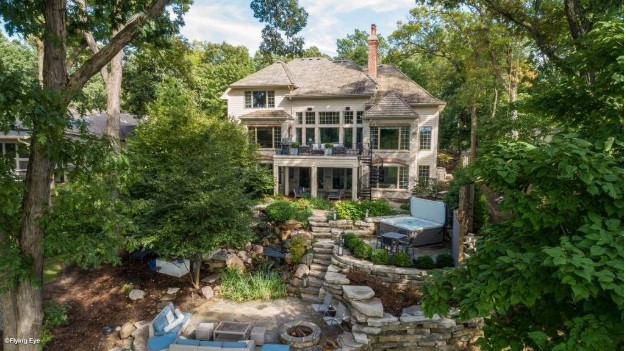 Designing your perfect outdoor living and entertaining area is a lot like designing for the indoors. Creating the right flow, defining different zones, and choosing the right materials and amenities are all needed to create a beautiful and functional space.
Your design can make or break your guests' and your own experience. To help you with your project, we are sharing our top 5 tips for creating a great outdoor space.
HDC's 5 Key Design Tips For Outdoor Living & Entertaining
1. Define Zones & Establish Flow
How will your space flow from indoors to outdoors? How will you and your guests interact with and experience the space? Great design involves great spatial planning.
Establishing flow guides the movement throughout the space, creating clear pathways to well-defined usage areas. Choosing materials that blend the indoors and out help to form an extension of your living area (think large picture windows, sliding or accordion doors, french doors, etc.). Furniture placement, hardscape design, and plantings can all help set up a traffic flow once you're in the space as well.
Exterior rugs under your furniture arrangements are easy and affordable ways to help define different areas in your outdoor space. Additionally, changes in elevation, outdoor structures (such as large exterior umbrellas, awnings, pergolas, gazebos, and cabanas), plantings, terrain changes, and focal points also help to define zones.
Depending on the footprint available and budget, you might consider adding designated spaces for dining, cooking, and/or food prep, group conversation, and a quiet space to sit and enjoy nature and/or your morning cup of coffee.
2. Factor in Views & Create Focal Points
The flow of outdoor space is often guided by the views. And zones, as well as furniture placement should be arranged with them in mind. When you are seated, what are you looking at? What is the backdrop to your outdoor space?
If your yard or deck does not come with built-in views, that is not a problem. There are small and large investments that can help create a relaxing and beautiful space.
A larger budget may allow for an outdoor fireplace or a waterfall wall. Fire tables and fire pits can be a more affordable way to achieve a place to gather. Fountains add serene sounds and give the eye a place to linger. Plants, either in the ground or containers, are also affordable ways to transform the space.
3. Build-in Privacy
Creating a sense of seclusion can truly make you feel like you are getting away. Adding structural walls or fences can provide the privacy you seek. Lattice walls, hedges, and other landscaping can shield your space from neighbors.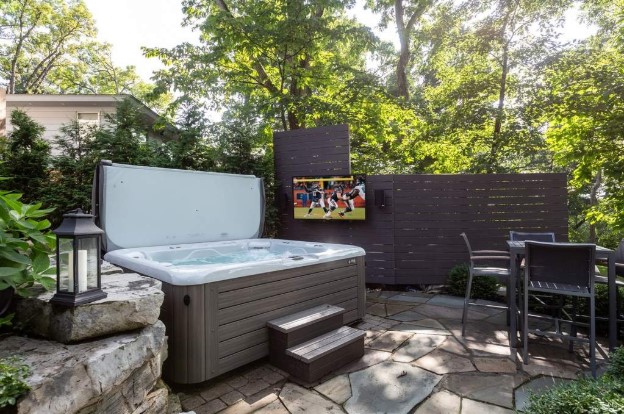 4. Plan Your Lighting
Natural light often abounds in outdoor living spaces. However, when the sun sets and the entertaining continues, it is important to have installed the right lighting to help you with your tasks and set the mood. Fully covered spaces will allow for fixtures but a lot can be done with twinkle lights and lanterns as well. Just make sure you have ample outlets to handle your needs.
5. Introduce Heating & Cooling Elements
Extend the use of your space by planning for the different elements. If your space is located in full sun, you will most likely want to provide some shade that can offer protection as well as give you a space to cool down. For a more restricted budget, this can be as simple as purchasing large outdoor umbrellas. Or, perhaps you want to add in a more permanent feature such as a pergola, cabana, or gazebo (the latter two also allow for the installation of ceiling fans to keep a breeze flowing through the new outdoor space).
Introducing a fire element or outdoor heating source will extend the use of the space into the cooler evenings as well as the spring and fall months. There are stand-alone butane powered heaters you can purchase at your local home improvement stores. Fireplaces, pits, and tables also can bring in heat and ambiance. We have even installed overhead heat in covered porches in the past.
Whether you are working with a professional designer or taking on a DIY project, factoring in these elements of design will create a wonderful space for you to enjoy.
Ready to get started with your own project? At Hogan Design & Construction, we are available and happy to answer any questions you may have.
Click here to read more helpful home-related tips on our blog, or follow us on Facebook and Instagram to stay in the know about upcoming Hogan Design & Construction educational workshops and events.