Handyman projects are an unavoidable by-product of daily home life, and keeping them on a to-do list simply delays the inevitable. That's why it's always best to tackle them while they're still manageable, not wait for them to pile up or turn into bigger projects or problems.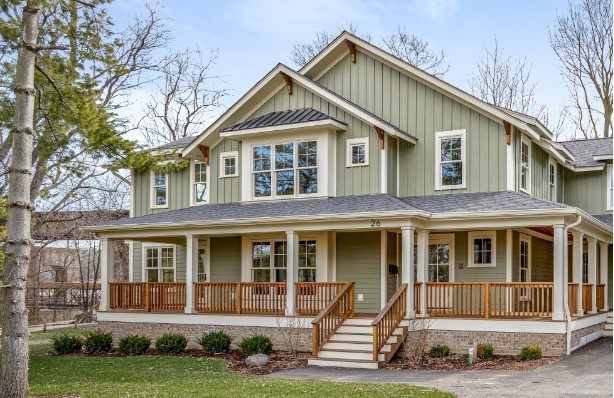 Home Design & Build by Hogan Design & Construction
In our last post, we discussed a few of the handyman jobs and minor repairs that the average homeowner tends to leave on the back burner for far too long — you know, those household projects that definitely need to be done, but don't necessarily have to be done today?
The projects that crop up on your home's exterior can be just as demanding as the ones that arise inside your home. Here are a few of the most common repairs and projects that may be waiting for you outside your home.
Gutters and Downspouts
The gutter system of your house may not look like much, but it performs a vital function every time it rains, collecting stormwater from your roof and directing it away from your home's foundation. When any part of that system becomes clogged for too long, the very structure of your house is at risk.
Gutters that are stopped up with leaves, twigs, and sediment may become damaged over time, causing rainwater to pool in all the wrong places. Repairing or replacing damaged gutters and downspouts is one of the smartest things you can do to protect your home's roof, soffits, fascia, foundation, basement, drywall, and walkways.
Siding, Soffits, Fascia, and Roof
Your home's exterior (siding, soffits, fascia, and roof) is the all-important protective layer that keeps the interior spaces you inhabit dry, comfortainly — livable.
When hail, strong winds, falling limbs, or any other weather event (anyonable, and — to put it ple remember that house-buckling polar vortex?) damages part of your home's protective layer, your interior space becomes vulnerable to a range of problems.
Repairing damaged soffits, fascia, roofing, and siding (whether it's brick, stucco, vinyl, or wood) isn't just about maintaining curb appeal — it's about protecting your home from water damage and dry rot as well as insect and animal infestations.
An experienced pro always addresses any underlying structural damage before seamlessly repairing cracked or dented siding, a broken or rotted soffit/fascia, or missing roof tiles.
Doors and Windows
Doors and windows go through a lot of wear and tear over the course of time. As the years go by and they start to show their age, you may experience noticeable air leaks and drafts, moving parts that no longer move so well (knobs, hinges, tracks, cranks, and sliding mechanisms), and damaged casings and seals.
Problematic doors and windows that still have some life left in them can often be brought back up to snuff with the right repair approach. In some cases, this also means replacing or repairing exterior storm windows and doors as well as screens.
Windows and doors that don't have much life left in them, on the other hand, can be completely replaced with energy-efficient upgrades.
Rooftop Deck Railing Repair by Hogan Design & Construction
Roof Decks, Porches, and Patios
As an outdoor extension of your living space, your deck, porch, or patio is constantly exposed to the elements. Even with normal upkeep and routine maintenance, these spaces are prone to accelerated wear and weather-related damage.
Damaged or rotting boards or railings make your deck less safe, while loose stairs, railings, and floorboards can make your porch more of a hazard zone than a place to pause and unwind. Loose, cracked, or damaged patio concrete, bricks, stones, and tiles also require prompt care.
Besides repairing or replacing damaged boards, railings, stairs, concrete, or brick, a pro can let you know what kind of steps you can take to minimize wear and prolong the life of the surfaces in your outdoor space (seal, stain, paint, power wash, etc.).
If you're ready to tackle the handyman projects outside your house, the team at Hogan Design & Construction can help — call our office or click online to schedule a walk-through with one of our home repair experts today.
For more home-related information, tips, and advice, subscribe to our monthly e-newsletter or follow us on Facebook and Instagram.