When it comes to conceiving, planning, and pulling off the perfect kitchen renovation, choosing the right materials can make all the difference. It's not surprising, then, that most homeowners have a lot of questions as they search for the best kitchen countertop for their space.
To help you get the answers you need as you plan your kitchen remodel, we've been exploring the design aesthetics, features, and functionality — as well as the basic pros and cons — of in-demand kitchen countertop materials.
After covering quartz (design chameleon), soapstone (classic beauty), wood or butcher block (singular character), concrete (durable sophistication), and granite (nature's gold standard), we're finishing our six-part blog series with one of the most elegant materials available: marble.
Here's how this timeless choice measures up
Marble Countertop Basics
Few natural materials exude as much opulence — and convey as much cultural history — as marble. In its purest, whitest form, marble was the stone of choice for many Renaissance sculptors; today, this refined high-end countertop surface brings instant luxury to any kitchen.
As a metamorphic rock, marble is created when sedimentary rocks like limestone and dolomite are subjected to intense pressure and heat over millions of years. Marble's most distinguishing feature — its sublime, characteristic veining — is the beautiful visual trace of impurities in the original limestone.
Color and pattern
Marble's unique appearance and surprisingly wide range of color options is arguably one of its best features as a premier countertop material: stunning white marble may have cream, grey, or black veining, while dramatic black marble may have eye-catching white or gold veining.
Beyond white and black, natural marble comes in an impressive array of shades, including grey, brown, cream, yellow, blue, green, and red. The distinctive veining pattern on an individual slab is wholly unique to that piece, and it offers three-dimensional depth and richness that manmade imitation marble simply can't reproduce.
Finished to perfection
Like granite, soapstone, and other natural stone surfaces, marble is quarried from the earth in large, single-piece slabs that are finished, edged, and sealed prior to their seamless installation.
Polished marble has a glossy, reflective finish, while honed marble has a flatter, more matte-like surface. Regardless of how they're finished, all marble countertops attain a lovely patina as they age.
Pros and Cons of Marble
With its exceptional natural beauty and unrivaled veining patterns, marble truly is one of the most aesthetically pleasing kitchen countertops available. But while this treasured stone surface offers several distinct benefits, it also comes with a few significant drawbacks.
Here are the main pros and cons of this high-end choice.
Advantages of marble
Smoother fabrication: Compared to granite, marble cuts like a dream. Because it's a slightly softer, more workable stone, marble is receptive to a greater range of design fabrications, including fancier edge profiles. Harder, more rigid stones like granite have fewer design options because they chip and crack more easily during intense fabrication processes.
Relatively durable: Despite the fact that marble is a relatively soft stone (especially compared to granite), it's strong enough and durable enough to perform well as a high-traffic kitchen surface. Marble is also waterproof and highly resistant to heat, meaning the bottom of a hot pan won't scorch or discolor it.
Offers a good ROI: Like granite, marble is a relatively pricey countertop material. But also like granite, its higher cost is partially offset by the added value it brings to your home. As a sought-after feature of an updated kitchen, marble countertops offer an excellent return on investment (ROI) when it comes time to sell your home.
Downsides of marble
Stains very easily: This is arguably the biggest disadvantage of marble countertops. Due to its inherent softness and porosity, marble is highly susceptible to stains.

Certain foods — especially more acidic ones like tomato sauce and lemon juice — can even leave permanent stains.
Sealing marble countertops every six months if you're an avid cook (or every year if you're not) can help mitigate porosity and staining.
Vulnerable to scratches: As a relatively soft natural stone that's easier to cut and fabricate, marble is somewhat prone to scratching. This is more of an issue with polished marble, however, as scratches on honed marble tend to blend in well with its aging patina.
Relatively pricey: Again, much like granite, marble's good ROI doesn't mean much if the up-front cost of the material doesn't match your budget in the first place. Because marble is one of the more expensive countertop options, many homeowners opt to feature the material in a smaller area like the

kitchen island

.
You could get the look of marble with lower-cost cultured marble, a less expensive option made of crushed marble and thermoplastic resins molded into a slab.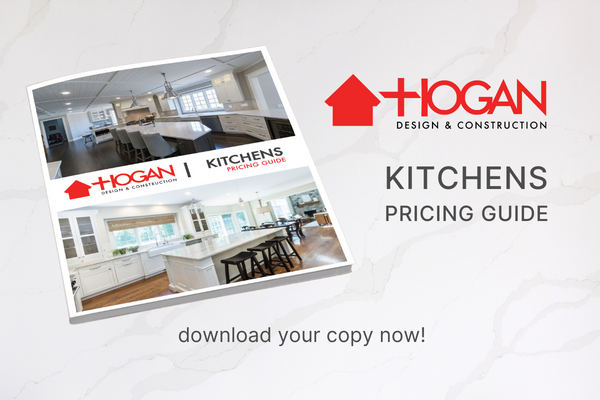 The Bottom Line on Marble
Let's face it: marble is, without a doubt, a timeless and alluring beauty that makes an excellent work surface in the kitchen. But for all its uniqueness and grandeur, it's also got a delicate, porous side that makes it incredibly vulnerable to stains.
If your budget can accommodate marble, and if you like its pros more than you're bothered by its cons, then it may be a good choice for your kitchen. If, however, you'd rather have a more durable countertop that resists staining, granite or quartz are probably better options for your space.
For more home-related tips, trends, and advice from Hogan Design & Construction, subscribe to our monthly e-newsletter, read our weekly blog, or follow us on Facebook and Instagram.