When selecting a quartz countertop for your next kitchen remodeling project, there are better places to cut costs, no matter how tight the budget is. Here's why.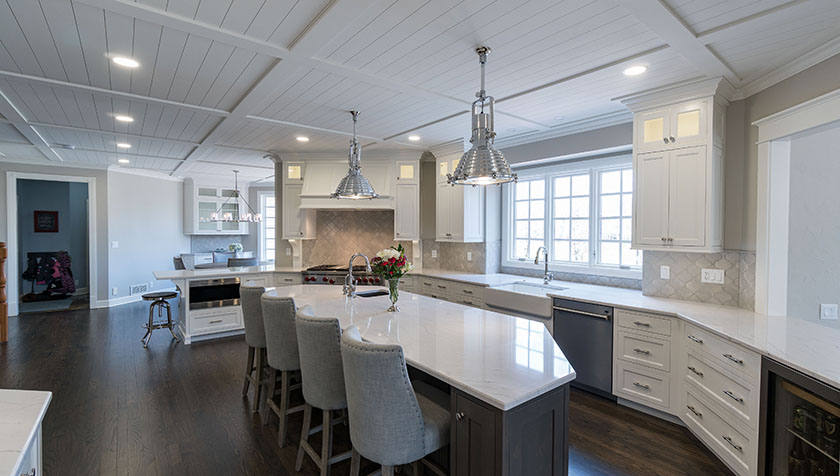 If asked to describe your relationship with your home's products, only a few would warrant the term "intimate." Your kitchen counter is one of the few. There's no denying that kitchen countertops are a place to cook, organize, and use for various reasons every day. A quality quartz countertop can bring you and your family years of satisfaction. This association is significant, which helps to explain why, despite their cost, engineered quartz slabs currently outsell granite for kitchen counters in new construction and remodeling projects. But not all quartz is equally pleasing, which is the issue.
Engineered quartz countertops are made from a blend of crushed stone and resin with mineral fiber and color added to enhance beauty and longevity. Homeowners opt for high-quality quartz countertops because of their durability and attractiveness, consistent patterns, color choices, and nearly invisible seams when properly installed. Quarts countertops resist staining. It is antimicrobial and non-porous, with no surface irregularities that could trap bacteria or mold. It doesn't need sealing or waxing. It's worth every penny when you consider the alternatives.
A great example of a luxury yet durable engineered quartz countertop is Breton S.p.A. Made in Italy, Breton S.p.A. has a patented process called "Bretonstone," used to make one of the best quartz countertops on the market today. Bretonstone slabs are produced using a technique known as "vibro-compression under vacuum," the heated mix is vibrated and compacted until it's super-hard, super-stable, and super-resistant to scratches, chips, and stains. Many big-name brands, as well as some smaller ones, rely on this technology.
A little-known fact is that quartz countertops must be certified by the American National Standards Institute and NSF International (previously the National Sanitation Foundation) to meet the NSF/ANSI 51 standard for food zone surfaces, allowing for the safe cooking of food on the surface. Another little-known fact about engineered quartz countertops certification is the food zone surfaces need to be certified, not the splash zone surfaces.
Curious about kitchen remodeling costs? Whether you're thinking about a bathroom, kitchen, basement remodel, or, new home addition, our pricing guides and Kitchen Remodeling Estimate Tool are here to help you understand what to expect before you begin your dream home remodeling project.
Unfortunately, not all manufacturers use Bretonstone's technology, and not all products meet food safety standards. These facts were realized a few years back when the US market was inundated with quartz countertops imported from China. To save money, the manufacturers of these counters used a high resin content—from 2% to as much as 30%—and a manufacturing process that didn't provide enough compaction. The result? Slabs that easily scratched, stained, and, in some cases, melted when exposed to a hot pan. Also, some of these products didn't meet NSF/ANSI food safety standards.
Of course, not all inexpensive quartz should be automatically categorized as inferior, but it takes technical knowledge and a good amount of effort to confirm its quality and safety. That makes non-certified quartz products a buyer-beware situation. This is why reputable remodeling companies rely on proven engineered quartz technology manufacturers and why you should, too.
At Hogan Design & Construction, your vision and ideal space come to life. From designers who partner with you, helping you imagine your ideal space. To the architects who transform a visual exploration into a plan of action. The construction itself is handled under the trusted eye of a contractor who's been with you every step of the way. The end result is an experience that takes away all worries before taking your breath away, with the space of your dreams fully realized.
To learn more about our design-build process, home-related tips, trends, and advice from Hogan Design & Construction, subscribe to their monthly e-newsletter, read our blog, check out our growing library of remodeling checklists, or follow HDC on Facebook and Instagram. To get your own project started, contact us today.