In today's climate-conscious age, forward-thinking homeowners are always on the lookout for new and better ways to reduce energy use, lower monthly expenses, and improve their carbon footprint.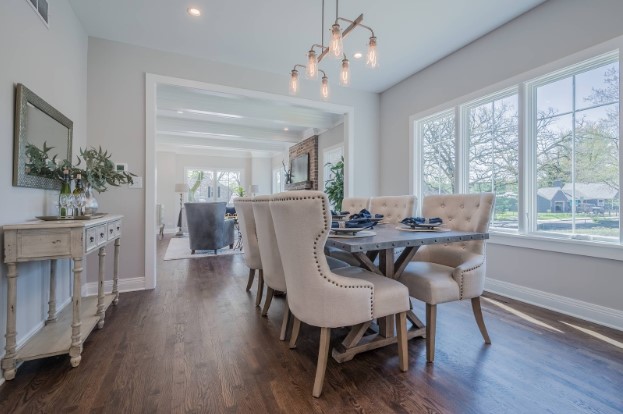 Home Design & Build by Hogan Design & Construction
There are many ways to make your home more energy-efficient, including using LED bulbs, installing energy-efficient appliances, switching to a smart thermostat, and replacing drafty old windows and doors.
Of all the energy-efficient improvements you can make, however, perhaps none is smarter or more impactful than ensuring your home is well-insulated. Proper insulation may start in your exterior walls and attic, but it goes all the way down to your basement or crawl space.
Here's why proper rim joist insulation is so important, and how it can make your home more energy-efficient than ever.
Wait… What's a Rim Joist?
If snow melts relatively quickly around the foundation of your house when temperatures are still below freezing, chances are you're losing heat through uninsulated rim joists.
To understand what a rim joist is, it's helpful to know about joists, which are the main structural elements of a floor frame. The floor itself is like a platform that's made up of several layers — a thick subfloor (usually made of plywood), a thinner underlayment, and a floor covering (wood, tile, carpet).
Beneath this platform, there's a framework of perpendicular supports, or joists, that run the length and span the width of the entire floor. On the first floor of your home, this framework sits squarely on top of a sill that's fitted to the top of your home's foundation.
Either end of each floor joist is butted up against two other perpendicular supports called rim joists. Along with the two outermost floor joists, these two rim joists help form the "band," or perimeter, of the floor's framework. The main job of each rim joist is to provide lateral support for the floor joists.
Curious About

Remodeling

Costs

?
Whether you're thinking about a bathroom, kitchen, basement remodel or, new home addition our pricing guides are here to help you understand what to expect before you begin your dream home remodeling project. Don't miss out on this valuable and FREE resource!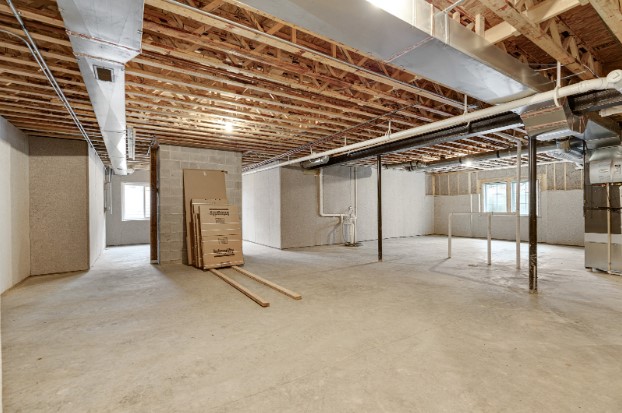 Basement by Hogan Design & Construction
Stopping the "Chimney Effect"
If you head down into an unfinished basement (or crawl space), you can see the exposed face of the rim joist between each floor joist, just above the foundation wall.
In most houses, the only materials standing between rim joists and outside air is sheathing and siding. In cold-weather months, this creates the perfect recipe for considerable heat loss — and sky-high energy costs.
Rim joist air leaks aren't as straightforward as they may seem, however. While heated air does escape through uninsulated rim joists along your home's foundation, colder outside air is also drawn in by the so-called chimney effect or air leaks in the attic.
As the warm air generated by your furnace rises up through your home and escapes through your attic, more cold air is drawn in through rim joist leaks in your basement. Besides making your entire home feel cold and drafty, this ongoing cycle drives your heating costs through the proverbial roof.
Rim Joist Insulation Benefits
Many homeowners think that sealing attic air leaks is all it takes to stop the chimney effect. But the job isn't truly complete until you seal basement leaks, too. This is where rim joist insulation comes in.
Proper insulation along the rim joists of your home's foundation helps eliminate air leaks and keeps moisture out; it also creates a strong thermal barrier at the base of the building envelope itself. Whole-home benefits include:
Minimal basement air leakage

More consistent indoor temperatures year-round

Lower energy consumption and cost

Warmer floors in the wintertime

Better moisture control and indoor air quality
Proper rim joist insulation simply means that the interior face of the exposed sections of each rim joist along your home's foundation should be fitted with a piece of air-impermeable rigid insulation, and then sealed along the edges with spray foam insulation.
Just don't make the common mistake of insulating your home's rim joists with fiberglass batts, as this air-permeable type of insulation lets air and moisture in and can lead to mold problems.
For more home-related tips and advice, sign up for our monthly e-newsletter or follow us on Facebook and Instagram.