Having spent the better part of two years getting to know our homes inside and out, many of us know exactly what we'd like to change about them. Plenty of people have decided to do just that — tackling small home improvement tasks and big remodeling projects has become something of a pandemic pastime.
As one of the most functional, high-use spaces in any home, bathrooms are a primary focus of periodic makeovers, upgrades, and renovations. Bathrooms may be a practical necessity, but that doesn't mean they have to be utilitarian or ho-hum. In fact, even the smallest powder room provides plenty of opportunity for bold, beautiful design.
If 2022 is the year you plan to finally revamp an old, outdated bathroom, there's a wide world of design possibilities to consider. To help you get started — or better yet, get inspired — we've put together a list of the top bathroom design trends we expect to see this year:
1. Warmer Neutral Tones
Say goodbye to austere, all-white bathrooms and the trendy cool grays of yesterday — in 2022, home renovation and design experts are predicting a major resurgence of warmer neutral tones, especially in the primary bathroom.
Expect earthy hues like taupe, beige, sand, cream, oatmeal, oyster, linen, and antique white to color walls and trim as well as organic elements like natural stone countertops, warm wood cabinetry, or ceramic wall and floor tiles.
2. Eye-Catching Textural Layers
In 2022, bathrooms are going textural with warm, eye-catching layers that bring visual and tactile interest to calm and tranquil spaces — think natural stone surfaces and unrefined wood accents alongside organic textiles like linen, cotton, muslin, wool, hemp, and jute.
You can also expect to see dimensional elements that add another layer of textural interest. Fluted, reeded, or slatted wood — either in the form of cabinetry doors or a large panel for a feature wall — are a leading design trend this year, as is dimensional tile, or tiling with an overtly textural look.
3. Statement-Making Marble
As one of the most in-demand natural stone surfaces this year, marble is poised to make a major comeback in kitchens and bathrooms across the United States. In primary bathrooms with high-end or luxury design schemes, warm white and gray shades of marble won't simply serve as vanity countertops; they'll also be used on floors and walls to create a feeling of opulence and visual dimension.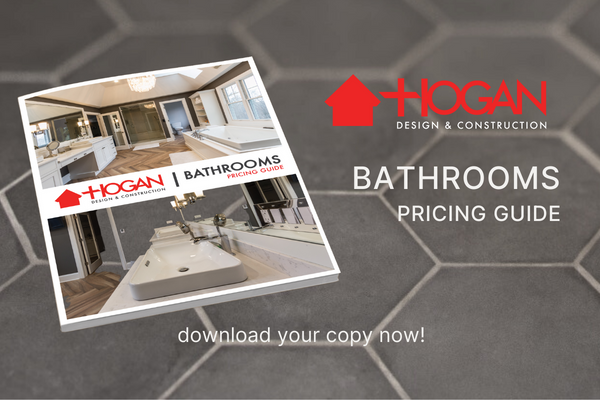 4. Spa-Like Features and Aesthetics
Heading into the third year of the pandemic — and with a continued trend toward spending more time at home — many people are keener than ever to create restful spaces that offer a soothing respite from the wider world. To that end, creating a spa-like bathroom that feels like a blissful escape will be the foremost goal in many primary bathroom renovations.
From statement lighting fixtures, luxurious finishes, and sumptuously balanced aesthetics to walk-in showers, soaking tubs, radiant floor heating, and striking storage features, there are a myriad of amazing ways to create your own personal sanctuary.
5. Bolder Colors and Patterns
Now that forward-looking bathroom design is no longer confined to austere, monochromatic schemes, bolder wall colors, patterns, and murals are experiencing a major comeback. But in 2022, these decorative motifs aren't meant to be a striking, stand-out design element so much as a distinctive counterpoint to an otherwise tranquil and neutral palette.
With the right combination of calming and cohesive hues, a fun or bold pattern can elevate a small, basic powder room and make it extraordinary. Likewise, an intricate mural or scene on a feature wall of your primary bathroom can transform it into a more meditative space.
6. Integrated Technology
With ongoing advances in home automation, many people are ready to integrate smart technology and bathroom design. This year, as people seek to achieve the dual and often opposing goals of enhanced personal comfort and improved energy efficiency, touchless faucets, smart toilets, and smart showers are expected to be more popular than ever before.
7. Classic and Modern Elements
As transitional and contemporary décor continue to take center stage in many American homes, a thoughtful, well-curated mix of classic and modern elements remains a dominant design trend in 2022. In bathrooms, this mix-and-match approach can take many forms.
A traditional soaking tub or sink may be fitted with modern fixtures, while an art deco bench may be paired with a sleek dressing table. Replacing a conventional vanity with a vintage sideboard, cabinet, or chest of drawers adds an unexpected layer of visual interest, especially when it's offset by a more modern backdrop.
For more home-related tips, trends, and advice from Hogan Design & Construction, subscribe to our monthly e-newsletter, read our weekly blog, or follow us on Facebook and Instagram.