An unfinished basement may provide plenty of valuable storage space, but a finished basement expands your living space and increases the value of your home. Adding more square footage of usable living space without having to build an addition has obvious advantages, but that doesn't mean it's always a straightforward process.
That's because basements come with a unique set of challenges and potential issues that can derail your project if you don't address them up front or consider them in your design plans.
Before you begin transforming your blank-slate basement into a multipurpose rec room, a slick media room, an expansive playroom, a home gym, or a sophisticated entertainment space with a fully stocked bar, it's important to take stock of obvious obstacles and possible contingencies.
With that in mind, let's explore common basement remodeling problems and the solutions that can help you resolve them.
Problem #1: Persistent Moisture
Given that basements are fully or partially below ground, it's not surprising that moisture can be a significant problem. Basements tend to be damp and musty for two reasons: they aren't well ventilated, and ground moisture easily seeps through foundational cracks and untreated walls.
Solutions
Tape two-foot squares of plastic sheeting along the floor and walls of your basement to test for moisture. Wait a couple of weeks. If condensation forms beneath the plastic, your foundation isn't properly sealed. If droplets form on the surface, your basement needs to be dehumidified.
Seal minor cracks with a concrete-patching compound or special moisture-proof caulking; treat walls and floors with water-lock paint; install gutter diverters to send rainwater at least 10 feet away from the foundation; and slope surrounding soil away from the foundation, too.
Curious About

Remodeling

Costs

?
Whether you're thinking about a bathroom, kitchen, basement remodel or, new home addition our pricing guides are here to help you understand what to expect before you begin your dream home remodeling project. Don't miss out on this valuable and FREE resource!
Problem #2: Unexpected Flooding
A basement that gets standing water every time it rains may not be suitable for finishing, but one that isn't likely to flood in the absence of considerable rainfall should still be protected against the possibility before it becomes a finished living space.
Solutions
If your flood risk is minimal to average, doubling up on sump pumps is the best way to minimize that risk and keep your basement dry during future episodes of historic rainfall. Install a battery backup for both pumps in case the power goes out; should your main pump ever fail or become overwhelmed, the second pump can take over.
If your home is connected to the municipal water supply, you can also opt to invest in a backup pump that's "powered" by water pressure in the supply line.
Problem #3: Inconvenient Columns
Every basement has a few strategically placed Lally columns, or vertical posts made of steel and concrete. Tasked with supporting the weight of your house, these posts are purely structural — and unconditionally critical.
While these posts may not work with your desired floor plan, you absolutely can't remove them without coming up with a viable structural replacement.
Solutions
As you may have guessed, covering (boxing) your vertical posts or hiding them through strategic design is the easiest and least expensive way to integrate them into your space.
If you don't want to hide your columns, you can consult a structural engineer to find out if it's possible to replace them with a specially designed overhead beam. Properly reconfiguring the load-bearing elements of your basement allows you to improve the aesthetics of your space without compromising the structure of your home.
Problem #4: Low Clearance
Basements tend to have less overhead clearance than upper living spaces, either because of low ceilings, low structural beams, or substantial overhead ductwork. Most building codes call for at least 7.5 feet of clearance in a finished basement; if yours doesn't meet that standard, you'll have to find a way to gain extra inches of vertical space.
Solutions
In some spaces, moving overhead pipes and ductwork is all it takes to create more clearance; in others, it may be necessary to replace low, thick support beams with narrower beams made of a stronger material. In basements where overhead clearance isn't an issue, you may be able to hide unsightly ductwork and support beams with soffits or a drop ceiling.
If your renovation budget is substantial, you could also consider underpinning, or digging out the existing concrete floor and installing a new one lower down. Although underpinning is an effective way to create more headroom, it's also a complex and pricey project.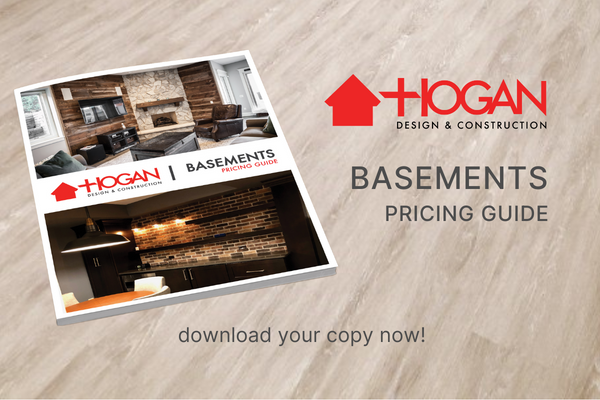 DIY, or Call a Seasoned Pro?
Resolving moisture problems, addressing flooding concerns, reconfiguring structural support issues, and creating more clearance are just the beginning when it comes to transforming an unfinished basement into a beautiful, functional space that fulfills your vision.
For as tempting as it may be to work on your basement bit-by-bit, finishing a basement isn't an ideal do-it-yourself project — basements weren't created to be living spaces in the first place, and it takes a lot of expertise, experience, and skill to make them livable and bring them up to code.
With all the potential issues — and all the innovative design options — involved in finishing a basement, it's a project that's best left to the pros. As a design/build firm that's specialized in basement renovation for two decades and counting, Hogan Design & Construction is at your service and ready to help.
If you're ready to maximize the square footage of your home and realize the full potential of your basement through superior design and craftsmanship, we've got you covered. Get started with our virtual design services today.
For more home-renovation trends, tips, and advice from the team at HDC, subscribe to our monthly e-newsletter, catch up on our weekly blog, or follow us on Facebook or Instagram.