Transforming your bathroom into a spa-like haven can help establish a calm and therapeutic space in your home for well-deserved relaxation and respites. The following checklist suggestions can help you create your bathroom oasis.
1. Neutral Color Palette: Select a soothing color scheme that includes neutral hues such as white, gray, and subdued blue or green. These hues have the power to provide a calm and peaceful atmosphere.
2. Soft Lighting: Install soft, diffused lighting to create a calming ambiance. Consider adding dimmer switches or lighting candles to intensify the relaxing effect.
3. Plants: Incorporate indoor plants to add a little nature to your bathroom. In addition to being aesthetically pleasing, plants also help improve the air quality.
4. Opulent Robes and Towels: Invest in plush, premium robes and towels. For a unified style, go with colors that are soothing or neutral.
5. Declutter: Maintain spotless surfaces. Use storage options like shelves or baskets to arrange toiletries and maintain a neat area.
6. Aromatherapy: Use reed diffusers, scented candles, or essential oils to add soothing aromas. Aromas with calming qualities, such as chamomile, lavender, or eucalyptus are well-known.
7. Comfy Seating: If there is room, include a cozy chair or stool where you can relax; a great place to lay back while enjoying your skincare or haircare regimens.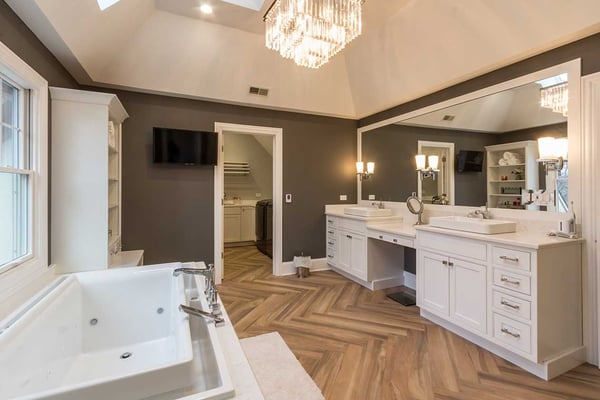 Greenacre Master Bath Suite & Laundry Addition
8. Heated Towel Rack: To add a bit of luxury, install a heated towel rack. Particularly in the winter, warm towels can add warmth and luxury to your spa session.
9. Soaking Tub: Consider upgrading to a deep soaking tub if room and budget allow. This is the main attraction in your spa bathroom and offers a luxurious and soothing way to take a bath.
10. Update Shower Fixtures: For a spa-like showering experience, get a handheld showerhead with adjustable settings or a rain showerhead. You may want to include a seat or built-in shelf in the shower for increased convenience.
11. Natural Materials: For bathroom accessories like soap dispensers, toothbrush holders, and storage bins, use natural materials like bamboo, stone, or wood.
12. White noise or music: Set up a sound system or install a Bluetooth speaker to play relaxing music or ambient noises, improving the spa environment.
13. Artwork and Décor: Select pieces that complement the spa motif. Think of abstract or nature-inspired art to create a tranquil space.
It's important to remember that the suggestions listed above should be tailored to your personal preferences and the accommodation of space available in your own bathroom. Making little adjustments can make a big difference in turning your bathroom into a spa retreat.
If you're looking to transform your kitchen, bathroom, basement, add an addition, and more, the qualified, award-winning, and creative team at HDC can help! Please take a moment to browse our extensive portfolio of remodeling projects and remodeling blog, learn more about our pricing guides, or take a moment to learn more about our design-build remodeling services. For more information or to schedule a no-obligation home or virtual consultation, simply fill out the form below, or give us a call at (630) 991-8700. Thank you for your interest in HDC.