There are so many things to consider when contemplating a bathroom remodeling project. Whether a master bathroom suite or powder room, there are many things to keep in mind before and during your bathroom remodeling project. The following checklist will help you with design, functionality, and materials, all of which work together to transform your current bath into a respite for you and your family.
1. Update Fixtures and Hardware: To give your bathroom a new look, swap out outdated showerheads, faucets, and cabinet hardware for chic, contemporary ones.
2. Tile and Flooring: Consider swapping out old, worn-out tiles for fresh, fashionable alternatives like subway tiles or mosaic designs. For increased comfort, especially in colder climates, install heated flooring.
3. Paint or Wallpaper: You may change your bathroom's appearance with a new coat of paint or chic wallpaper. For longevity, think about painting using moisture-resistant paint.
4. Vanity and Countertops: Replace your old sink and countertop to update your vanity. In smaller bathrooms, floating vanities can provide the impression of more significant space. Select premium, long-lasting countertop materials such as quartz or granite.
5. Lighting: Upgrade the lighting with ambient and functional light fixtures. Think of alternatives such as pendant lights or LED mirrors.
6. Storage Solutions: To keep your bathroom neat and clutter-free, install built-in cupboards, shelves, or a linen closet.
7. Walk-in Shower or Bathtub: If you have the room, think about swapping out your outdated bathtub for a modern walk-in shower. Glass enclosures without frames can give the bathroom a more airy feeling. Replace your bathtub with a standalone or spa-like model for an opulent touch.
8. Toilet Upgrade: Swap out your outdated toilet for a contemporary, water-efficient model. Go for a wall-mounted toilet for a modern design and simple maintenance.
9. Ventilation: To avoid mildew and mold, increase ventilation. If feasible, install a bathroom window or a high-quality exhaust fan.
10. Mirror and Medicine Cabinet: Select a fashionable mirror that blends in with the design of your bathroom. A medicine cabinet can offer more storage space.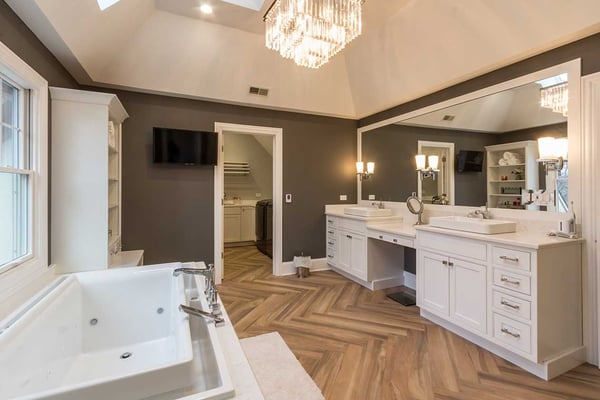 Greenacre Master Bath Suite & Laundry Addition
11. Accessibility Features: Installing grab bars, a walk-in tub, or a curbless shower will help make your bathroom more accessible if you intend to age in place or wish to improve accessibility.
12. Green Upgrades: Choose eco-friendly materials and fixtures to save energy and water. LED lighting and low-flow toilets are wise investments.
13. Luxurious Features: If you have the funds available, consider including luxuries like heated towel racks, hot showers, or built-in music systems.
14. Color Scheme: Select a color scheme you like that makes the space feel calm. While bold colors can bring flair, soft, neutral hues give the impression that a bathroom is more spacious.
15. Customized Elements: Add finishing touches like bespoke cabinetry, artwork, or ornamental tiling to make the area truly yours.
16. Smart Technology: Use features like a hands-free faucet, a programmed shower system, or a smart mirror to incorporate smart home technology into your bathroom.
17. Greenery: Try adding some indoor plants to add a little nature to your bathroom. Certain plants can flourish in the damp conditions of a bathroom.
18. Safety Features: If you have older family members, install grab bars for enhanced safety and non-slip flooring, especially in the shower area.
19. Layout Considerations: Rearrange your bathroom's layout to maximize space, increase traffic flow, and improve functionality.
To carefully plan your bathroom renovation, consider your household needs, budget, and preferred design. To ensure your bathroom remodel is done with quality, on budget, and on time, it's best to hire a contractor.
If you're looking to transform your kitchen, bathroom, basement, add an addition, and more, the qualified, award-winning, and creative team at HDC can help! Please take a moment to browse our extensive portfolio of remodeling projects and remodeling blog, learn more about our pricing guides, or take a moment to learn more about our design-build remodeling services. For more information or to schedule a no-obligation home or virtual consultation, simply fill out the form below, or give us a call at (630) 991-8700. Thank you for your interest in HDC.