Whether you purchased a fixer-upper, you simply need more space for a growing family, or maybe it's just time for a Home Reboot. Hogan Design & Construction (HDC) can help. At HDC … when it comes to luxury home remodeling, we go Beyond Building. Update, expand, or reconfigure spaces to eliminate house-related stressors. As you consider an addition to your home, it's always a good idea to begin the process with a pre-remodeling home addition checklist. What follows is a thorough checklist to assist you in organizing and getting ready for your new home addition.
1. Identify Your Needs and Goals: Decide on the addition's intended use (e.g., an additional bedroom, an office, or a larger kitchen). List your top goals and unique demands for the new place and decide on a project budget.
2. Planning and Research: Research local zoning, building, and permit requirements. Consult an architect or designer to generate precise designs and blueprints to ascertain the project's cost. Then, get quotes from contractors.
3. Licenses and Rules: Obtain all necessary permissions and approvals from neighborhood authorities. Be sure to follow all zoning laws and building codes.
4. Managing Money: Make a thorough budget that covers the price of the building, the materials, the labor, the permits, and the reserve monies.
You will also need to include unforeseen costs.
5. Funding: Choose the financing method for the addition (savings, a home equity loan, a construction loan, etc.) or obtain funding, if required.
6. Employ Experts: Pick a trustworthy general contractor. Employ architects or designers; for complicated jobs, consider consulting a structural engineer.
7. Design and organization: Complete the addition's layout and design. Make sure it blends in with your home's current design and structure.
8. Considerations for Utility: Consider the needs for insulation, HVAC, plumbing, and electrical systems. Take into consideration the need for adequate lighting and ventilation.
9. Components and Finishes: Select the addition's materials, finishes, and fittings. Account for energy-efficient solutions for windows, appliances, and insulation.
10. Setting Up the Site: Remove any structures and barriers from the construction location. If required, take into account interim accommodations.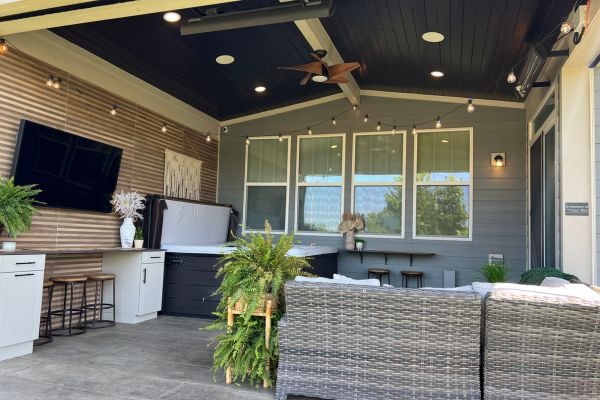 Kennedy Covered Porch
11. Schedule and Timeline: Set a reasonable completion date for the project. Set deadlines and milestones in cooperation with your contractor.
12. Short-Term Accommodations: If your project will interfere with your daily routine, prepare for temporary housing while the project is underway.
13. Precautions for Safety: To protect your family and property during construction, talk with your contractor about safety precautions.
14. Storage: Plan to temporarily store any items during the project.
15. Interaction: Establish open communication channels with your project manager and contractor.
16. Disaster Preparedness: Create a backup plan in case of unanticipated changes, delays, or budget overruns.
17. Protection: Check your homeowner's insurance policy to be sure construction is covered.
18. Final Inspection: Conduct a last walkthrough with your contractor before the project starts to address any issues.
19. Sign Agreements: Sign agreements specifying project specifications, deadlines, and payment schedules with all parties involved.
20. Project management: Throughout construction, remain actively involved in project management and decision-making.
This pre-remodeling home addition checklist will help you ensure your project is successful and your objectives met while staying within your allocated spending limit and timetable.
If you're looking to transform your kitchen, bathroom, basement, add an addition, and more, the qualified, award-winning, and creative team at HDC can help! Please take a moment to browse our extensive portfolio of remodeling projects and remodeling blog, learn more about our pricing guides, or take a moment to learn more about our design-build remodeling services. For more information or to schedule a no-obligation home or virtual consultation, simply fill out the form below, or give us a call at (630) 991-8700. Thank you for your interest in HDC.