'Tis the season to begin to consider decorating your home for the holidays. Here are some festive suggestions and ideas to help you turn your basement into a magical place this holiday season:
1. Tidy and Prepare: Make sure your basement is clutter-free and tidy before decorating. To start with a clean slate, dust and vacuum the area.
2. Select a Theme: Choose a color palette or holiday theme for your basement. Traditional, rustic, modern, or humorous motifs are frequently used and will guide your decor decisions.
3. Lighting: Proper lighting is essential. For a warm and inviting ambiance, use lanterns, candles, and string lights. If there is little natural light in your basement, consider installing LED candles or floor lamps.
4. Windows and Walls: Adorn the walls and windows with wreaths, window clings, or artwork with holiday themes. Additionally, you can make a festive background for pictures.
5. Furniture and Textiles: Adorn your furniture with blankets, throw cushions, and slipcovers with festive themes. It's a simple way to incorporate some holiday cheer.
6. Mantle and Fireplace: If you have a fireplace in your basement, adorn the mantle with candles, garland, and stockings. For a cozy flair, think about utilizing an electric or fake fireplace if you don't have a real one.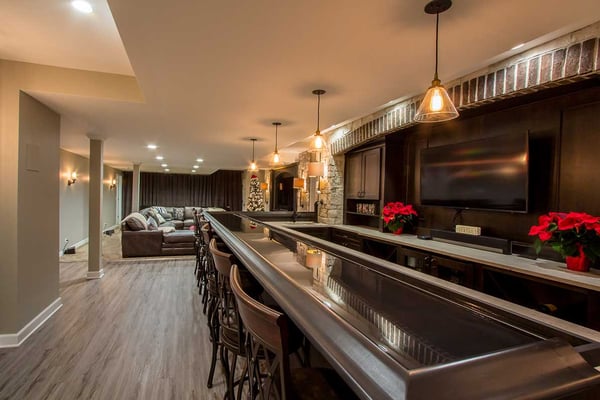 Hill Basement
7. Table Décor: Arrange a festive table with dishes, placemats, and a centerpiece; this makes a fun area for games or get-togethers.
8. DIY crafts: Use your imagination to create handmade holiday-themed crafts. Create handmade ornaments, paper snowflakes, or wreaths with your loved ones to give your décor a unique flair.
9. Music and Entertainment: Arrange a room for entertainment and make a holiday playlist. You can set up a karaoke station, play games, or watch holiday movies.
10. Festive Fragrances: Fill the room with the lovely scents of the season, such as cinnamon, pine, or gingerbread, by using scented candles, potpourri, or an essential oil diffuser.
11. Safety First: When decorating your basement, especially with electrical decorations, keep safety in mind. Ensure every cord is safe to walk on and poses no trip risk.
12. Storage Strategy: Determine how you'll store your decorations once the holidays are over. Your belongings will remain in good shape for many years if you store them properly.
Always remember that having fun and designing an environment that makes you, your family, and holiday guests comfortable and in the holiday spirit are the keys to happy holiday decorating.
If you're looking to transform your kitchen, bathroom, basement, add an addition, and more, the qualified, award-winning, and creative team at HDC can help! Please take a moment to browse our extensive portfolio of remodeling projects and remodeling blog, learn more about our pricing guides, or take a moment to learn more about our design-build remodeling services. For more information or to schedule a no-obligation home or virtual consultation, simply fill out the form below, or give us a call at (630) 991-8700. Thank you for your interest in HDC.