After the kitchen, the main bathroom is the most functional, high-use room in any home. It's also one of the rooms that most homeowners want to keep as fully updated as possible — from toilets, tubs, showers, and sinks to flooring, fixtures, storage, and lighting, the right design approach can transform your bathroom from a utilitarian space to a relaxing retreat.
The first thing most people want to know is "How much does a full bathroom remodel cost these days?" A new main bathroom can be a wonderful upgrade to your home that carries a high return on investment (ROI), meaning you can expect to recoup at least half of every dollar you spend on your project in the form of added home value.
While a stellar ROI can certainly take the sting out of paying for a pricey bathroom renovation, you may still be wondering how long you'll have to wait for your new bathroom to take shape once you choose the right contractor for your job.
When you choose a full-service design-build firm like Hogan Design & Construction, you can expect open communication and a detailed timeline every step of the way. Here's what you need to know about the three-step process leading up to demo and construction, the average length of time it takes to deliver a complete bathroom renovation, and what a typical timeline for a small bathroom remodel might look like.
Leading Up to Your Bathroom Renovation
It's one of the most pressing questions on every homeowner's mind as they embark on a major bathroom update: How long will it take? While the answer depends on various factors, you can expect to go through three distinct phases before demo and construction begin.
After you've gone through the exploratory process and selected the design-build firm or contractor you'd like to work with, you'll lay the groundwork for the renovation itself (the final construction phase).
1. Design and budget
When remodeling a bathroom, what comes first? The design and budgeting phase, which encompasses all the design and development work required for your bathroom renovation, including architectural development, total design planning, as well as civil and estimating work. It also includes setting rough budgets for your project.
2. Planning your build
Upon completion of your bathroom design plans, an estimator meets with subcontractors to establish a fixed price for your project. During this phase, the scope of work is finalized and detailed out, and the construction contract is presented and signed.
3. Setting the schedule
Finally, your production manager takes 2-8 weeks to finalize construction plans (ordering materials and scheduling subcontractors), submit for permits, determine a start date, and detail your project schedule with step-by-step timeframes and deadlines.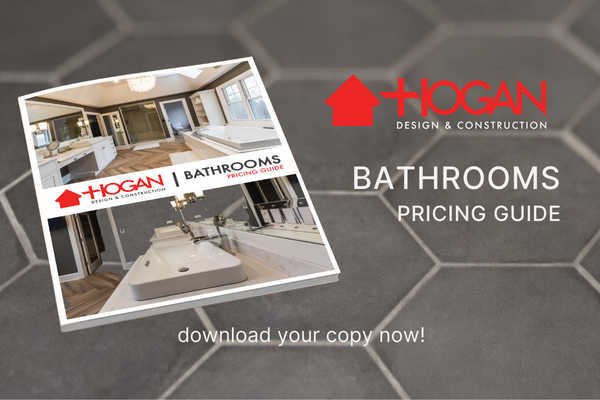 How Long Does a Bathroom Remodel Take?
When people inquire about the total timeline of a full bathroom renovation, they usually want to know how long the active construction phase will last — or basically how long they'll have to use the extra bathroom at the end of the hall or downstairs.
Average timeframe for a full bathroom renovation
Although it depends on the scope and finish level of the specific project, the construction phase of the average full main bathroom renovation takes between 5-7 weeks, from demo to completion.
Possible timeframe for a full bathroom renovation
From the first day of demolition to the final walk-through, your bathroom renovation could take a bit less — or substantially more — time than average. Some bathrooms may take as little as 3-4 weeks to finish, while others take 9-10 weeks, or even longer.
For example, if you aren't changing the footprint of your bathroom, altering or adding new electrical or plumbing, or choosing custom tiling or vanities, it's reasonable to expect that your renovation will take less time.
If, however, you're significantly altering your bathroom layout, doing a full gut renovation, opting for imported materials with lengthier delivery times, or if you simply change your mind about your original material choices somewhere along the way, your renovation could take substantially longer.
The Average Bathroom Renovation Timeline
Here at HDC, we use an online project management system which allows you to monitor the construction and renovation progress and see everything that we see. Your project manager will reach out to keep you updated on any changes, and is never more than a phone call away during the construction process for any questions you may have.
A typical timeline for an average small bathroom remodel might look something like this:
Demolition: 2 days

Rough carpentry: 2 days

Plumbing rough-in: 1-2 days

Electrical rough-in: 1-2 days

First inspection: 1 day

Insulation: Half a day

Hang drywall: 1 day

Finish drywall: 1 day

Paint: 1 day

Tile work: 2 days

Flooring: 2 days

Cabinetry and trim: 1 day

Hookups and fixtures: 2 days

Final inspection: 1 day

Miscellaneous: 1.5 days
The total number of days in this idealized timeline (23) doesn't include "dead days" that may occur because of unexpected issues, and assumes that work continues from one task to the next without lag time in between. Since work isn't done on weekends or holidays, a 23-day timeline would translate to about 4-5 weeks.
Get Started with Our Comprehensive Pricing Guides
At HDC, we believe that open communication and accurate, comprehensive information are key to the success of every remodeling project. Our detailed pricing guides can help you understand what to expect when you begin conversations surrounding your planned home renovation project:
Our guides offer price ranges based on current Chicagoland area building and remodeling cost estimates, as well as our own 20+ years of experience within the industry.
We serve bathroom remodeling and home renovation clients in northern Illinois (including the far western Chicago suburbs of Naperville, Hinsdale, Wheaton, Glen Ellyn, Lombard, Geneva, Batavia, and St. Charles) as well as southern Wisconsin (Lake Geneva, Lakes Delavan, and Fontana).
If you're ready to take the first step toward your new and improved main bathroom, give us a call today or fill out our easy online contact form any time. We're ready to help you make your dream space a reality.
For more home-related tips, trends, and advice from HDC, read our regular blog, subscribe to our monthly e-newsletter, or follow us on Facebook and Instagram.