After the kitchen, the bathroom is one of the most functional, high-use spaces in every home. It makes sense, then, that it's also one of the most frequently renovated rooms, too. You want a bathroom that works for you, and you want to attain all that essential functionality through beautiful, eye-catching design.
When your bathroom isn't as optimized, updated, or relaxing as you'd like it to be, it can make your daily self-care routines a little less productive, efficient, and joyful. If your bathroom has always been outdated or you've simply outgrown it, a complete bathroom renovation may be on your mind.
But even as you visualize your dream bathroom, you're probably wondering what it will cost. You know what you can afford to spend, but you don't know how much it costs to remodel a bathroom these days — or the various factors that may go into setting an estimated price range for your specific project.
How much does it cost to renovate a bathroom in the Chicagoland area these days? It's one of the questions we get most often here at Hogan Design & Construction.
Read on as we explore the elements that go into calculating the cost of a bathroom remodel, and discover how those elements translate to the average bathroom renovation cost, as well as cost per square foot, in the far western suburbs and the greater Chicagoland area today.
Bathroom Remodel Cost Calculation Basics
"How do you calculate bathroom remodeling costs?" It's typically one of the first questions that arises during our initial meeting with homeowners. While the answer depends on a variety of factors, key elements of any bathroom renovation cost include project size and scope (half, full, or primary bathroom), level of finish (budget, mid-grade, high-end, or luxury), and needed services.
In any home renovation project, there are several main cost components that help form the basis of the overall cost. In the average bathroom remodel, this typically includes most if not all the following:
Materials and fixtures

Labor and installation

Any needed demolition

Electrical and plumbing

Drywall and painting

Tiling and millwork

Windows and doors
As you might imagine, the cost of each of these elements depends on the scope and finish level of the project itself. Overall scope and finish level of everything from countertops and cabinetry to bathtubs, showers, fixtures, and flooring determine whether a project falls into a low-end, moderate, or high-end cost range.
Your final bathroom renovation cost estimate also includes design fees, sales tax, and permit fees. Design fees are typically 5-10% of construction costs; sales tax and permit fees (and rules) vary by municipality and project considerations.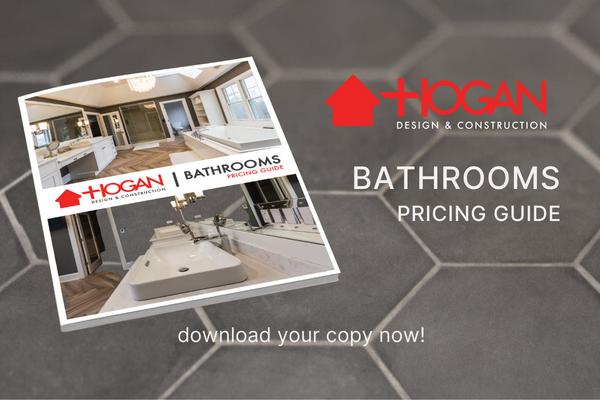 What Does the Average Bathroom Remodel Cost?
In the Chicagoland area, including the northern and western suburbs, the median cost of full primary bathroom remodel in a single-family home is about $50,500 if it's completed by a professional.
The total cost of a typical primary bathroom renovation in the Chicagoland area can land anywhere between $35,000 and $75,000 or more, depending on its finish level, size, and scope.
Specifically, average Chicago bathroom remodeling costs — and average bathroom remodeling costs in Wheaton, Lombard, Naperville, Hinsdale, Geneva, St. Charles, and other western suburbs — are:
$27,200 for a mid-range hall bathroom

$42,200 for a next-level primary bathroom

$82,300 for an upscale primary bathroom
Remember, it's possible to choose better materials and finishes and still stay at the lower end of your price range if you do the job yourself or hire a general contractor to do it. But that's not the best way to go if you don't know what you're doing or you value tailored solutions, flawless work, open communication, and set timelines.
Choosing a design-build firm like HDC may often cost a little more, but you can rest assured the job will be done right by skilled professionals who are with you every step of the way, from project concept to completion. This includes providing accurate cost estimates while moving through the design process, and defining a fixed price before construction begins.
Is a bathroom remodel worth it?
Given the potentially higher price of checking all the boxes and getting everything you dream of in your bathroom remodel, you may be wondering if renovating your bathroom is worth it.
If you truly love your home and your neighborhood, you don't plan to move in the foreseeable future, you have a budget that more or less matches your remodeling goals, and your vision for your space would make it a perfect fit for you and your family, the answer is a resounding yes.
Understanding how a bathroom renovation brings added value to your home can also make your decision easier. When you update a high-use, high-function room like a first-floor hallway bathroom or your larger primary bathroom, it effectively increases the value of your home.
This concept, known as return on investment (ROI), ensures that your upgraded bathroom is a financial boost to your main investment — your house.
What is the ROI on a bathroom remodel in Chicagoland?
There are many factors that come together to determine the kind of ROI you can expect with any major home remodeling project. Your home's current market value and general market or buyer interest in the kinds of upgrades you plan to include, for example, are two key factors that help shape the kind of ROI you can expect.
In the Chicagoland area, average ROIs are as follows:
$15,900 for a mid-range hall bathroom that cost $27,200

$23,900 for a next-level primary bathroom that cost $42,200

$44,100 for an upscale primary bathroom that cost $82,300
As you can see, average ROI can range from recovering nearly 60% of your upfront cost in the form of added home value to recovering just over 50% of your renovation costs in the form of added home value. Either way, ROI helps take the sting out of a costly bathroom remodel.
How much does it cost to add a bathroom in Chicago?
Adding a bathroom to your existing home from scratch will always cost more than remodeling an existing bathroom, whether you're planning to frame out a separate bathroom within your existing home space, or add a new bathroom to your home through the construction of an addition.
While there are many variables that help determine the final cost of a bathroom addition, we can give you the current average cost of bathroom additions in Chicago and the surrounding suburbs:
$64,100 for a mid-range bathroom addition (with an ROI of $31,700)

$114,200 for an upscale bathroom addition (with an ROI of $57,400)
In many cases, a bathroom addition arrives in the form of a complete primary suite addition, which includes the primary bedroom, closets, and bathroom. In the Chicagoland area, the average cost of an upscale primary suite addition is $355,600, with an average ROI of $159,900 (45% of cost recouped in added home value).
Get Started with Our Comprehensive Pricing Guides
At HDC, we believe that open communication and accurate, comprehensive information are key to every successful renovation project, no matter how large or small it happens to be. That's why we've developed four comprehensive pricing guides to help you understand what you can expect when you begin conversations surrounding your upcoming renovation project:
Our guides offer price ranges based on current Chicagoland area building and remodeling cost estimates, as well as our own 20+ years of experience within the industry.
Although the figures listed in these resources are only approximate estimates, they can help you gain valuable insight into what you can expect before you even set up your first meeting with our team.
If you're ready to take the first step toward a new kitchen, give us a call or fill out our quick online contact form today. We're ready to help you make your dream space a reality.
For more home-related tips, trends, and advice from HDC, read our regular blog, subscribe to our monthly e-newsletter, or follow us on Facebook and Instagram.