Making appropriate appliance selections for your kitchen remodel is essential as they significantly impact the room's efficiency, visual appeal, practicality, and, the value of your home. To assist you in making some wise kitchen appliance decisions, please take a moment to review the following Kitchen Remodel New Appliances checklist:
1. Establish a Budget: Decide how much you can afford to spend on appliances for the kitchen. Considering your budget will help narrow your options, as appliances have many different price points.
2. Take into Account the Kitchen Layout: The size and arrangement of your kitchen will affect the kinds and sizes of equipment you can install. Make sure your chosen appliances will fit comfortably by measuring the available area.
3. Appliance Type and Size: Choose the type and dimensions of your required appliances:
Refrigerator: Select from side-by-side, French door, bottom-freezer, or top-freezer models.
Oven: Choose between gas, electric, or induction for your range or cooktop. Think about if you need a separate wall oven.
Dishwasher: Select between a compact and standard-sized model.
Microwave: Select the type of microwave you want: over-the-range, built-in, or countertop.
Ventilation Hood: Choose the kind of hood that best meets your demands when cooking.
Other Appliances: If they suit your lifestyle, consider additional appliances such as warming drawers, trash compactors, and wine coolers.
4. Energy Efficiency: To save money on power bills over time, look for appliances that have earned the ENERGY STAR certification. These appliances are more energy-efficient.
5. Style and Aesthetics: Make sure the appliance's finish and design complement the aesthetic of your kitchen. Popular choices include black, white, and stainless steel; specific models allow bespoke finishes.
6. Brand and Reliability: To determine a brand's dependability and level of client satisfaction, look up the brand and read reviews. Consider purchasing appliances with longer lifespans by investing in reliable brands.
7. Technology and Features: Think about the features and technologies that are important to you. A few appliances come with touchscreen controls, convection cooking, smart features, and more. Select options that will improve your culinary experience.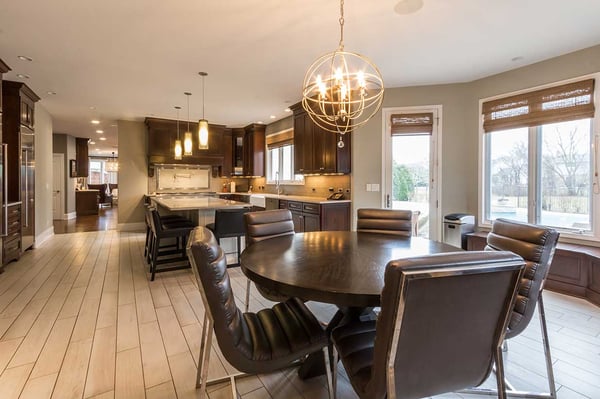 Greenacre Kitchen
8. Maintenance and Cleaning: Consider how simple keeping your appliances clean and maintained will be. Certain coatings on stainless steel appliances are more resistant to fingerprints than others.
9. Noise Level: If your kitchen opens to the living area, be mindful of the noise produced by equipment such as range hoods and dishwashers.
10. Warranty and Support: Verify the terms of each appliance's warranty and the accessibility to nearby service and repair choices.
11. Energy supply: Consider the energy requirements of your new appliances during your kitchen redesign. For instance, induction cooktops require power, but gas burners require a gas line.
12. Long-Term Considerations: Evaluate how your equipment selections affect your kitchen's long-term goals. In the upcoming years, will they continue to fulfill your needs?
13. Compatibility: Make sure the appliances you choose from various companies will complement each other if you purchase more than one.
14. Personal tastes: In the end, consider your culinary habits and preferences. Your everyday cooking and food preparation duties should be more pleasurable and convenient with the correct appliances.
By following this checklist, you're assured of selecting the most ideal appliances for your kitchen renovation, satisfying your design selections and functionality while dramatically updating your new kitchen's look, feel, and, flow.
If you're looking to transform your kitchen, bathroom, basement, add an addition, and more, the qualified, award-winning, and creative team at HDC can help! Please take a moment to browse our extensive portfolio of remodeling projects and remodeling blog, learn more about our pricing guides, or take a moment to learn more about our design-build remodeling services. For more information or to schedule a no-obligation home or virtual consultation, simply fill out the form below, or give us a call at (630) 991-8700. Thank you for your interest in HDC.