Remodeling your basement and converting it into an entertainment area is a wonderful way to add value to your home and spend time with your family. Here's a quick and handy step-by-step checklist to help you convert that unused lower level into a dream family space.

1. Establish Your Budget: Choose the maximum amount of money you can spend on the project. Making educated judgments during renovation is easier when you have a budget.

2. Evaluate the Area: Examine your basement's state right now. Before beginning the remodeling project, check for structural or moisture problems.

3. Design and Layout: Choose the primary purposes for the area. The most popular choices for a basement entertainment space are a game room, home theater, bar, or a combination of these areas. By using a thorough floor plan, you can see the arrangement.

4. Waterproofing and Moisture Control: Make a suitable waterproofing investment if moisture is a problem in your basement. This could entail constructing a vapor barrier, installing a sump pump, or caulking cracks.

5. Insulation and Ventilation: Soundproofing and temperature control depend on appropriate insulation. Think about adding ceiling and wall insulation. To guarantee the passage of fresh air and install ventilation.

6. Plumbing and Electrical: Make plans for lights, outlets, and any plumbing that sinks, bars, or restrooms may require. Employ licensed plumbers and electricians to guarantee building code compliance and safety.

7. Flooring: Select a floor covering that complements the room's function. Choose from resilient flooring for a game area, hardwood or laminate for a more sophisticated appearance, or carpeting for a "homey" feel.

8. Walls and Ceiling: Finish the walls with drywall or other materials. Apply paint or wallpaper to create the mood you want. Consider including exposed beams or a drop ceiling for a distinctive design.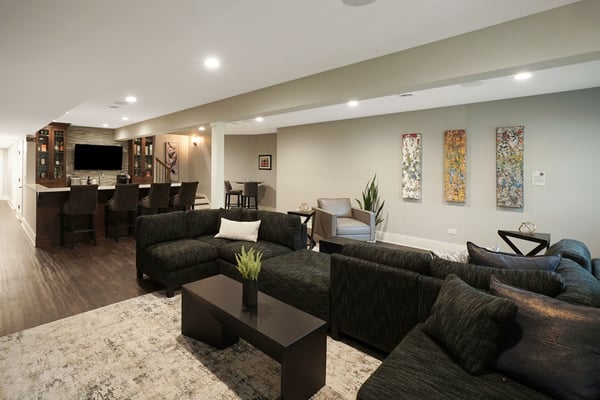 Universal Luxury Basement
9. Amusement Elements: Install essential entertainment features like a home theater projector or large-screen TV, a seated bar area, and gaming tables like ping pong, foosball, or pool tables.

10. Furnishings and Décor: Pick cozy furnishings that go well with the entire style. Add ornamental pieces like curtains, rugs, and artwork for added ambiance.

11. Lighting: Use a range of lighting choices, such as task, accent, and ambient lighting. Dimming switches can help set the mood.

12. Soundproofing: To keep noise from invading the rest of the house, consider soundproofing your basement if it's adjacent to other living areas. Use curtains, carpets, and acoustic panels to aid in sound absorption.

13. Storage Solutions: Provide room for storing games, DVDs, and other entertainment supplies with built-in cabinets or shelving.

14. Permits and Inspections: To find out if you need permits for your renovation job, contact your local municipality. Ensure all work complies with building codes and arrange for inspections when required.

15. Finishing Touches: Complete any last details, like moldings, trim, and final paint or wallpaper. Verify the functionality of all systems and equipment by testing them.

16. Safety Measures: To guarantee safety in the basement entertainment area, install smoke alarms, carbon monoxide detectors, and fire extinguishers.

17. Decorate and Enjoy: After everything is complete and the area is secure, add the furnishings and accessories of your choice. Bring your loved ones over to enjoy your new entertainment area.

To ensure your newly remodeled basement entertainment space goes off without a hitch, it's important to research and hire a home remodeling contractor in your area, someone with the expertise to adhere to an approved project plan, process, and safety regulations.
If you're looking to transform your kitchen, bathroom, basement, add an addition, and more, the qualified, award-winning, and creative team at HDC can help! Please take a moment to browse our extensive portfolio of remodeling projects and remodeling blog, learn more about our pricing guides, or take a moment to learn more about our design-build remodeling services. For more information or to schedule a no-obligation home or virtual consultation, simply fill out the form below, or give us a call at (630) 991-8700. Thank you for your interest in HDC.